Supervisors landmark St. Brigid church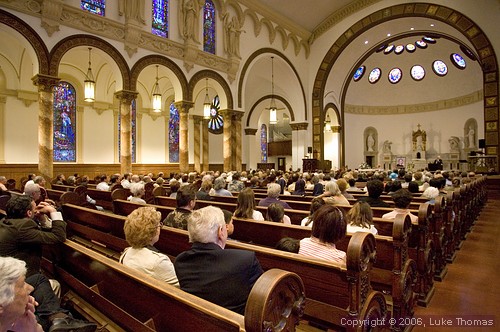 St. Brigid Church.
Photo(s) by Luke Thomas
By Emmett Berg, Bay City News Service
October 3, 2006
SAN FRANCISCO (BCN) - San Francisco supervisors voted to preserve the exterior of St. Brigid's Church today, the latest feint in a process one supervisor said might lead to greater community use of the shuttered parish.
The Board of Supervisors action left unprotected for now interior features of the church, including marble sculptures of angels, carved oak pews and the original nave and pulpit.
"Today is all about the exterior of St. Brigid's," Supervisor Michela Alioto-Pier said. "The interior has not been forgotten."
Two other supervisors -- Jake McGoldrick and Ross Mirkarimi -- said they were interested in writing a law to give the city authority to extend landmark preservation status to the interior of buildings identified as landmarks, not just their exterior.
St. Brigid's Church, a fixture on Van Ness Avenue since 1864, has been cited as a classic example of Richardson Romanesque architecture. St. Brigid's stone facade contains curbstones leftover from the wreckage of the 1906 San Francisco Earthquake, and several noted artists and craft workers contributed sculpture and detail to the interior.
The Catholic archdiocese had closed the church in 1995 over the objections of some parishioners. Some of them formed a group, which staged demonstrations to head off demolition of the church in 1995.
The Academy of Art University -- a top landowner in San Francisco-- bought the building in 2005 from the Catholic archdiocese.
Since the Academy of Art University assumed ownership, it has petitioned the city and the state for the church to be removed from any landmark preservation status.
Beatriz St. John, a spokeswoman for the Committee to Save St. Brigid Church, said that despite the committee's desire "to landmark the whole building," advocates were pleased that the city's action would put wind in their sails in advance of an Oct. 27 hearing before a state agency overseeing landmarks.
"We're concerned about the interior," St. John said. "But right now our plate's full. We think this will help us before the hearing" before the California Office of Historic Preservation.
Academy of Art officials did not immediately respond to questions on their position on the landmark action and future plans for the building.
Supevisor Alioto-Pier said she hoped that the city's continuing dialogue with the school would lead to the building's reuse as a performance hall.
"We are lucky they are the people who bought this," Alioto-Pier said.
Copyright © 2006 by Bay City News, Inc. -- Republication, Rebroadcast or any other Reuse without the express written consent of Bay City News, Inc. is prohibited.

####