Newsom State of the City address emphasizes
quality of life for all San Franciscans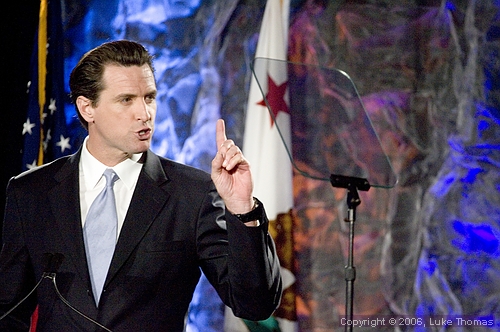 Mayor Gavin Newsom addresses a full-house comprised of city workers, elected officials, department heads, community based organizations, high-school students and members of the public on the State of the City of San Francisco in the auditorium of Phillip and Sala Burton Academic High School today.
Photo(s) by Luke Thomas
By Brigid Gaffikin, Bay City News Service
October 26, 2006
SAN FRANCISCO (BCN) - San Francisco Mayor Gavin Newsom touted his administration's plans to tackle everything from violent crime to poor roads to San Francisco's high cost of housing in his state of the city speech at a San Francisco high school today, promising in the next five years to work toward making San Francisco a safer, cleaner and more affordable city and emphasizing his achievements over the past two and a half years.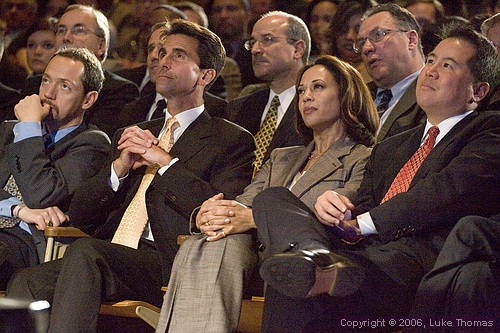 Supervisor Bevan Dufty, Assemblymember Mark Leno, District Attorney Kamala Harris
and Assessor Phil Ting.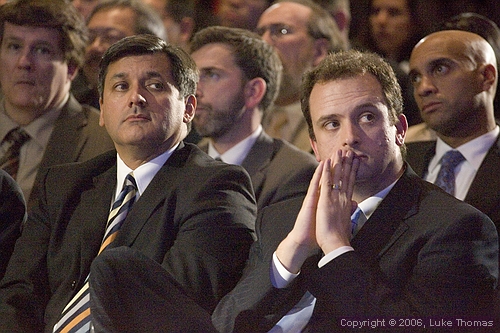 Treasurer Jose Cisneros and Supervisor Sean Elsbernd.
He spoke at length about homelessness, citing figures to support the success of two programs, Project Homeless Connect and Homeward Bound. Under his leadership, some 2,222 people have been placed in "permanent supportive housing" and 95 percent of those people still live there, while well over 1,000 people have used Homeward Bound, which provides homeless residents with a one-way bus ticket to a willing family member or friend, he said.
Newsom promised new programs to combat alcoholism among the homeless, but said petty crime fuelled by drug addiction had to stop.
"There has got to be some consequences" for the homeless mentally ill and chronic substance abusers who refuse help, he said.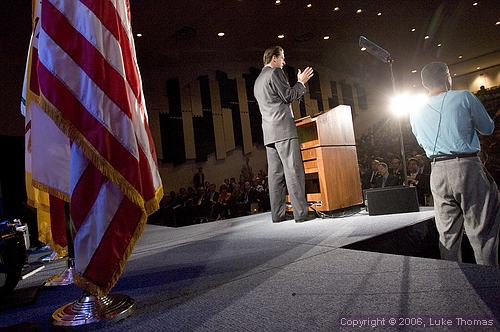 Beyond outlining his goal to have 700 new police officers on the streets by 2009 and declaring the city would fight violence at its "root causes" with a new program that seeks toalleviate poverty in the city's most "at risk" intersections, Newsom said relatively little about violent crime.
Some 75 people have been the victims of homicide this year, according to the San Francisco Police Department, more than the 70 homicide deaths recorded by Oct. 26 last year.
A call toward the end of the almost 90-minute speech for more San Franciscans to become police officers drew some titters from the audience at Phillip and Sala Burton Academic High School, which included high school students, but Newsom drew applause when pressed for greater civic participation.
The city's schools must "create a basic expectation for community service," he said. "The goal should be to make community service a common experience, a rite of civic passage for all young San Franciscans."
Where housing was concerned, Newsom reiterated the goals of his administration to build more affordable housing for lower and moderate income residents.
The city also faces a "clear moral imperative" to redress recent losses in federal public housing assistance, he said, and described a plan to build mixed use housing and ground-floor retail in areas in impoverished and isolated neighborhoods.
Much of Newsom's speech concerned the city's transportation infrastructure.
He promised to push for better San Francisco Municipal Railway service and announced an 18-month Muni improvement study examining national and international transit systems, the Transit Effectiveness Project, along with a pilot program on Muni's 1 California line to model how he expects the agency to perform overall.
With the implementation of a number of new citywide projects, San Franciscans would find their day-to-day movement around the city easier, he said.
Newsom promised his support of the Geary Boulevard transit corridor and called a recent lawsuit that has halted work on a city bike plan "ill-conceived," reiterating his goal for have 10 percent of trips in the city be by bicycle.
He announced plans to work with the Metropolitan Transportation Authority to make prepaid parking meter cards available online by at least early 2007 and for Muni's Fast Pass monthly ticket to be sold in more outlets and said he would push for a centralized taxi dispatch system accessible online.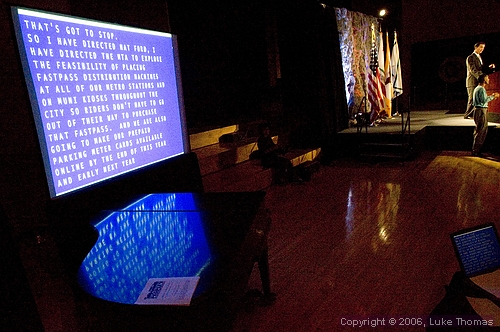 Throughout his speech he dropped hints about 3-1-1, an all-day, every-day city government information service to be launched shortly.
Newsom's frequent references to goals with deadlines as far out as 2011, including a citywide tree-planting project and a plan to make all San Francisco cabs "green" by the same year, suggested there might be little to recent reports that he might not run for office in 2007.
Full text of speech, click here.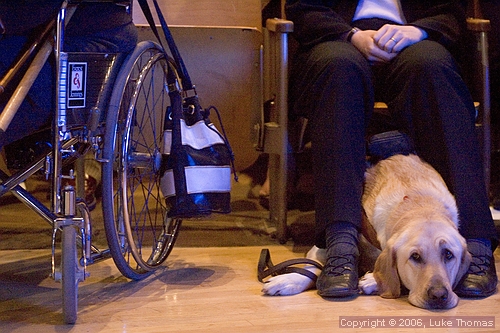 ####