State of Emergency declared for Lake Tahoe fire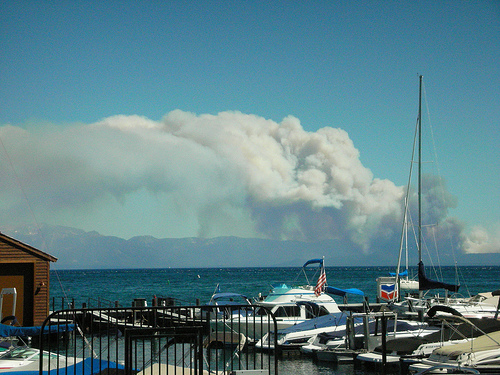 Photo courtesy Louisa Pickering
By Ananda Shorey

June 25, 2007
A state of emergency has been declared this morning for the South Lake Tahoe area, where a fire has ravaged an estimated 220 homes and charred up to 2,500 acres.
Lt. Gov. John Garamendi today signed the emergency proclamation declaring a State of Emergency for El Dorado County, according to the governor's office. The proclamation will provide state funding to cover the costs of fighting the fire and repairing damaged infrastructure.
The fire, which began at 2 p.m. Sunday, has scorched hundreds of structures and at least 1,000 structures remain threatened, including a high school. A mandatory evacuation is in place for 1,000 people, fire officials said today.
Planes are having trouble taking off to fight the fire because winds have died down and thick plumes of smoke have blanketed the area. There is concern because winds are expected to pick up again mid-week, possibly causing the fire to spread more quickly.
"It is just kind of a surreal atmosphere," said Mary Pierce, a fiscal administrative manager in the Office of Emergency Services at El Dorado County Sheriff's Office.
No injuries have been reported as result of the blaze, known as the Angora Fire, which is burning near South Lake Tahoe, Pierce said.
The South Lake Tahoe Parks and Recreation Department set up a temporary shelter and has moved evacuated residents from areas southwest of Lake Tahoe between Meyers and Fallen Leaf Lake to nearby hotels.
Some displaced residents were seeking shelter at the recreation center, while others had been placed at hotels and provided with food and clothing.
"Panic has not set in," Pierce said. "They are helping each other -- neighbors helping neighbors."
Droves of people were congregating at Ernie's Coffee Shop today in South Lake Tahoe to console each other and talk about the fire, said Paul Bruso, who has owned the business for 27 years.
One customer who moved into his newly built house Saturday is now homeless, Bruso said.
"People are still a little bit in shock. No one really knows what will happen, but Tahoe is a resilient place," Bruso said.
The fire came within a couple blocks of Bruso's house last night, he said. Luckily, the winds shifted today. The blaze is within a mile of Ernie's.
Ash is covering the ground and cars. The smell of smoke is wafting through the air and breathing is difficult after a short time outside, Bruso said.
The fire started around 2 p.m. Sunday, according A USDA Forest Service operator said she had been fielding calls from concerned vacation homeowners who lived as far away as Hawaii and Rhode Island.
The fire is thought to have started in the mostly single-family subdivision of Tahoe Paradise, in the general vicinity of Mt. Rainier Street and North Upper Truckee Boulevard.
"It was a human-caused fire," said USDA Forest Service spokesman Rex Norman. There is no evidence that its origin is suspicious, he said.
Crews from the Forest Service, Lake Tahoe Fire Department and Cal Fire are fighting the blaze, Norman said.
There were 12 helicopters, 110 engines and four dozers fighting the blaze this morning, in addition to other support personnel.
Two firefighters from Alameda and Contra Costa counties were sent to the fire, Contra Costa County fire spokeswoman Emily Hopkins said today.
At 11 a.m. today, four firefighters from the city of Napa were heading to Tahoe to help in the containment effort.
Crews are working today to get a containment line around the fire. There is no estimate for containment, Norman said.
U.S. Highway 50 is closed from Sly Park Recreation Area, which is near the town of Pollock Pines, to the California-Nevada state line, said
Darlene Whitmore, a transportation engineering technician with the California Department of Transportation.
Drivers can take eastbound Interstate Highway 80 to southbound state Highway 267 near Truckee, Whitmore said.
Officials are advising people to stay away from the area.
Copyright © 2007 by Bay City News, Inc. -- Republication, Rebroadcast or any other Reuse without the express written consent of Bay City News, Inc. is prohibited.
####