Stem cell institute awards $4.1 million to Stanford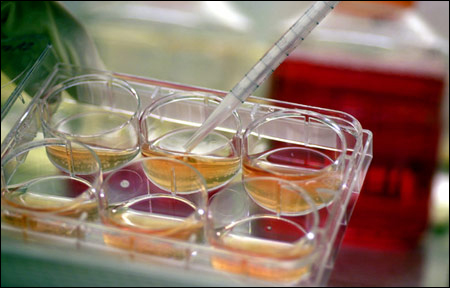 Photo courtesy Harvard University Gazette
By Jason Bennert

June 6, 2007
Stanford University School of Medicine yesterday announced a $4.1 million grant from California's stem cell initiative to renovate laboratory space for stem cell research and to provide a stem cell training course for researchers.
The grants from the California Institute for Regenerative Medicine make Stanford one of 17 sites to receive funds for laboratory renovation and one of six sites that will develop training programs.
"We're hoping our facility will be a dynamic place for people to learn and share ideas about embryonic stem cell research,'' Stanford Director of Human Stem Cell Research Renee Reijo Pera said.
Stanford's facilities grant will be used to renovate 2,500 square-feet of off-campus laboratory space and fund an additional 1,200 square-feet of lab space at a satellite facility.
The training program will train scientists in the basics of working with human stem cells. Stanford plans to run the program three times a year with the first class beginning in July.
Copyright © 2007 by Bay City News, Inc. -- Republication, Rebroadcast or any other Reuse without the express written consent of Bay City News, Inc. is prohibited.
####