Jobs loses appeal in bid to demolish Woodside house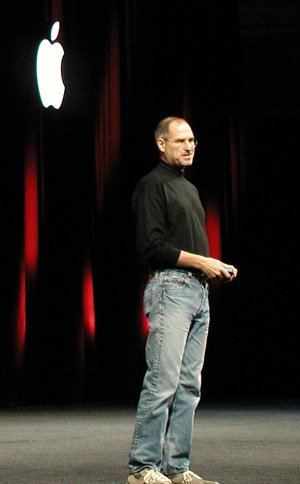 Steve Jobs, Apple, Inc.
Photo courtesy Wikipedia, myler.mp
By Julia Cheever, Bay City News Service

January 10, 2007
SAN FRANCISCO (BCN) - Apple Inc. Chief Executive Officer Steve Jobs today lost a bid to a state appeals court in San Francisco for a permit to demolish an historic 30-room house in Woodside and replace it with a smaller residence.
The Court of Appeal upheld a ruling in which San Mateo County Superior Court Judge Marie Weiner last year set aside a permit granted by the Woodside Town Council for demolition of the building, known as the Jackling House.
The two-story, 17,250-square-foot house was built for copper magnate Daniel Jackling in 1926. It was designed by George Washington Smith, a leading architect in the Spanish Colonial Revival style, and qualifies as an historical resource under the California Environmental Quality Act, the court said.
Jobs bought the building in 1984, lived in it for about 10 years and then rented it for several years after moving to Palo Alto. It has been vacant since 2000 and has been allowed to deteriorate, according to the court ruling.
Jobs began seeking a permit to demolish it and build a smaller 6,000-square-foot home for himself and his family in 2001. He was granted the permit in 2004 by a 4-3 vote of the Town Council, against the recommendation of the council's staff. Then a conservation group called Uphold Our Heritage filed a lawsuit challenging the action.
In today's ruling, a three-judge appeals panel agreed with Weiner's finding that there was no substantial evidence to support the Town Council's conclusion that it would not be economically feasible to renovate the house or renovate it with a new addition.
Those two options were evaluated as alternatives to demolition in an environmental impact report, which concluded that demolition would result in loss of a cultural resource.
Under the state environmental law, a public agency can't approve a project that would have a significant effect such as harming an historical resource unless there are no feasible alternatives.
Douglas Carsten, a lawyer for Uphold Our Heritage, said, "We hope that now the town and Steve Jobs will work with Uphold Our Heritage and other interested parties in achieving a genuine preservation solution for the Jackling House."
Jobs's lawyer, Howard Ellman, said he could not comment on Jobs's plans or on a possible further appeal because he has not been able to reach Jobs, who is at Apple's Macworld trade show in San Francisco today.
Ellman said "discussions are in progress" for a private group to take over the house and move it to a different site.
Uphold Our Heritage member and Woodside resident Barbara Wood said, "I'm really happy that the original ruling was upheld. I'm happy to see that the state law that says we need to protect our historical resources applies no matter who the person may be."
Wood said the building "is a romantic house. You can imagine all those big parties in the 1930s with a jazz band playing in the courtyard," she said.
The National Trust for Historic Preservation and the California Preservation Foundation filed a friend-of-the-court brief in the case opposing the demolition permit.
Copyright © 2006 by Bay City News, Inc. -- Republication, Rebroadcast or any other Reuse without the express written consent of Bay City News, Inc. is prohibited.

####