San Francisco groups call on city leaders
to stop their bickering
"Every day of political bickering, every day of not
being on the same page,
means more blood on our streets"
By Brent Begin, Bay City News Service
September 29, 2006
SAN FRANCISCO (BCN) - Two of the city's largest community groups along with local clergy called today on San Francisco's politicians to "quit their bickering" and stop violent crime.
Standing in front of a blood-red sheet draped on the steps of City Hall and adorned with anonymous, silhouetted figures representing the 69 murders committed in the city this year, one pastor expressed his outrage.
"Every day of political bickering, every day of not being on the same page, means more blood on our streets, more blood on the steps of City Hall," said the Rev. Regnaldo Woods, minister of Bethel African Methodist Episcopalian Church.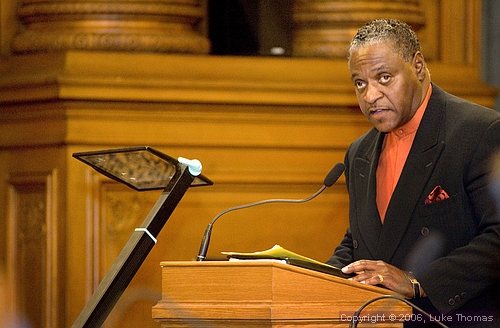 Reverend Regnaldo Woods. (File photo - 4/6/6)
Photo(s) by Luke Thomas
Around 30 people representing the San Francisco Organizing Project and the Association of Community Organizations for Reform Now also stood on the steps and pledged to take back the streets through community action and pressure on the city government.
Criticism of the city's politicians stems from the announcement of several different crime fighting measures and resolutions in the last month.
While many of the proposals target crime prevention, such as foot patrols, curfew enforcement, crime camera installation and increased funding for police overtime, implementation of the measures has ran into several snags. The mayor's $2.5 million crime supplemental has been held up in the Budget and Finance Committee, the chief of police has criticized the foot patrol plan, and the city has yet to find the funding to install several new cameras.
"We need everybody in this city to work on a coordinated plan if we're going to make a difference," said Deacon Nate Bacon of St. Peter Church in the Mission District. "The only way that will happen is by checking our egos at the door."
The involvement of faith-based organizations in the community has recently been suggested in community meetings. At a police commission meeting in the Bayview district Wednesday, several commissioners called upon the mayor's office and the Police Department to involve religious groups in the process of healing neighborhoods marred by a summer of violence.
But while there were no city leaders at today's rally to listen to suggestions, many hope their message will be heard.
"We can't continue to throw money at a system that doesn't work," said the Rev. Kirk Davis of Providence Baptist Church in the Bayview District. "The money is not reaching those who need it the most.
Copyright © 2006 by Bay City News, Inc. -- Republication, Rebroadcast or any other Reuse without the express written consent of Bay City News, Inc. is prohibited.

####