Federal agents raid Sunset District meth lab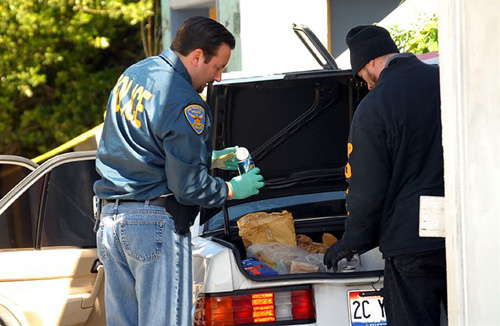 Federal drug enforcement agents examine evidence found at the scene of a methamphetamine lab bust earlier today in the conservative Sunset Distrct
of San Francisco.
Photos by Mark Grissom, Special to Fog City Journal
By Brent Begin, Bay City News Service

March 15, 2007
SAN FRANCISCO (BCN) - Federal drug enforcement agents are still cleansing a home of toxic agents in San Francisco's Sunset district following a raid this morning on a small methamphetamine lab.
According to Drug Enforcement Administration spokeswoman Casey McEnry, the raid began around 9 a.m. in the 1500 block of 45th Avenue.
Agents had reasonable suspicion to believe that Daniel Nogara, 28, had been violating the terms of his federal probation. Agents entered Nogara's home this morning on a probationary search and were overwhelmed by the smell of chemicals in the home, McEnry said.
After breaking out windows of the home to let the fumes escape, agents discovered tools for the manufacture of methamphetamine.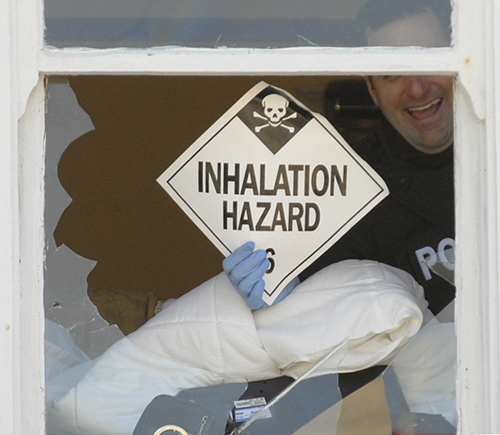 "We're still determining whether any product was in the home," said McEnry, who added that hazmat workers are decontaminating the home this afternoon.
The lab is considered small when compared to "super labs" capable of producing up to 10 pounds of the drug at a time. McEnry said that even a small lab can produce a large amount of toxic waste, with six pounds of waste for every pound of product.
"The unusual thing about this is that it wasn't in a rural area," McEnry said. "It's not common to find a lab in a populated area like the Sunset."
Copyright © 2007 by Bay City News, Inc. -- Republication, Rebroadcast or any other Reuse without the express written consent of Bay City News, Inc. is prohibited.
####