More antennae likely at San Francisco Sutro Tower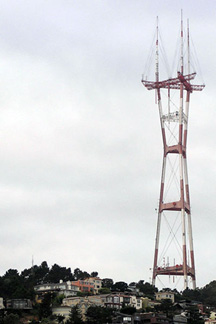 Sutro Towers
Public domain photo courtesy Wikipedia
By Emmett Berg, Bay City News Service

October 24, 2006
SAN FRANCISCO (BCN) - The San Francisco Board of Supervisors gave its assent today to television broadcasters replacing four antennae and installing others on and near Sutro Tower, though city planners must still sign off on the project.
Supervisors voted 8-0 to turn back an appeal of a categorical exemption to state environmental laws granted to the consortium of broadcasters that own the 977-foot tower and seek to replace four antennae and install five others.
Critics said Sutro Tower, with about 200 antennae attached since its construction in 1972, was emitting radio frequency radiation in amounts that adversely affected the quality of life for nearby residents.
"Those of us who live in this community are bathed in RF," or radio frequency radiation, said Robert Nachtigall, who identified himself as a doctor at San Francisco General Hospital. "It's like an 800-foot-steel-radiating gorilla."
Representatives of broadcasters said studies showed no trace of unhealthful impacts from Sutro Tower, and said the antennae they sought to replace were of the kind that did not emit radiation.
Paul Maltzer, a city planner, told the board that the emission of radio frequency radiation fell outside of the environmental factors that were reviewable at the local level.
"The federal government has pre-empted local jurisdictions from going there, essentially," Maltzer told the board regarding the radio frequency radiation. He said local planners were focused on determining if antennae replacement would have noise or visual impacts.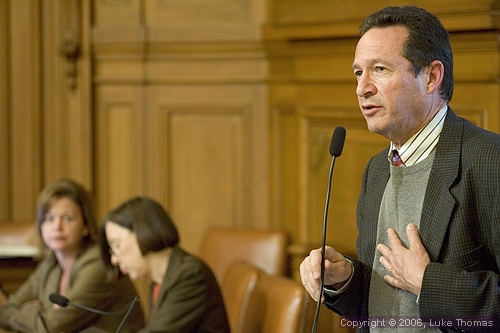 City Planner Paul Maltzer
Photo by Luke Thomas
Before the unanimous vote, some supervisors voiced concern that adding more and more antennae over time would, at some point, constitute grounds for taking a closer look at cumulative impacts.
"If we go project by project, where is the tipping point?" Supervisor Sean Elsbernd asked board members.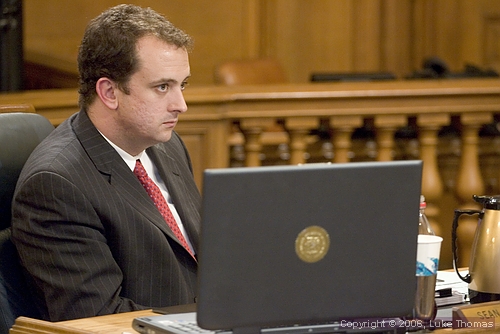 Supervisor Sean Elsbernd
Photo by Luke Thomas
Copyright © 2006 by Bay City News, Inc. -- Republication, Rebroadcast or any other Reuse without the express written consent of Bay City News, Inc. is prohibited.

####