S.W.A.T team raids Oakland muslim bakery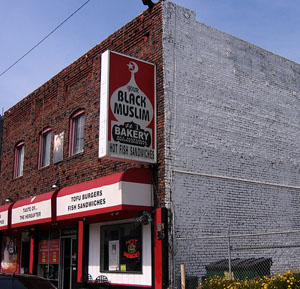 Photo courtesy Trace3, Flickr.com
By Bay City News
August 3, 2007
Blasts rang out from inside Your Black Muslim Bakery in Oakland this morning and a window blew out of the building as S.W.A.T team members armed with rifles raided the business, according to a security officer who works nearby.
Search and arrest warrants alleging false imprisonment, kidnapping and murder were served on officials this morning associated with the bakery, according to the Oakland Police Department. The warrants were served following a long-term investigation.
Officials are not saying whether the raid is related to the daytime Oakland shooting death Thursday of veteran journalist Chauncey Bailey.
At about 4:50 a.m. today, three rental trucks and a garbage truck pulled up in front of the bakery, said Dennis Monaghan, a security officer at Siddha Yoga Meditation Ashram, located at the corner of San Pablo and Stanford avenues, just doors down from the bakery.
The trucks were filled with officers holding rifles and gear, he said. The trucks were followed by S.W.A.T. vehicles and patrol cars. About 20 officers assembled in front of the bakery.
"And then you heard go, go, go," Monaghan said. Then there were 15 or so blasts. During the raid, one of the upper windows of the bakery blew out, he said.
The S.W.A.T. team was inside for about an hour. The area was blocked off. At least one man was brought out wearing a white jacket and handcuffs, Monaghan said.
"I haven't seen such action since Vietnam," Monaghan said. The bakery is surrounded with police tape and officers are parked in front of the business.
One young male who appeared to be in his 20s was arrested at about 7:45 a.m. near the bakery located at 5832 San Pablo Ave. after surrendering to police.
Three officers were standing on the roof of the bakery around 8 a.m. surveying the area. A two-block area of San Pablo Avenue is blocked off at Stanford Avenue.
A news conference is scheduled for 3 p.m. today at the Oakland Police Department regarding the raid.
Copyright © 2007 by Bay City News, Inc. -- Republication, Rebroadcast or any other Reuse without the express written consent of Bay City News, Inc. is prohibited.
####