Police: Bakers lived lawless life
Group linked to multiple murders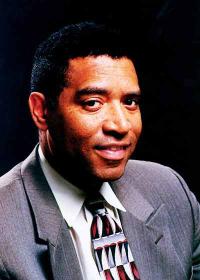 Editor Chauncey Bailey was gun downed in cold blood Thursday.
Police have linked his killing to members
of the Your Black Muslim Bakery in Oakland.
Photo courtesy Oakland Tribune
By Jeff Shuttleworth
August 3, 2007
Oakland police say that members of the Your Black Muslim Bakery, who were arrested today in connection with three murders, including that of journalist Chauncey Bailey, appear to have thought that they were above the law.
Lt. Ersey Joyner, head of the homicide unit at the Oakland Police Department, said, "In my opinion several members of the bakery have been involved in a very violent enterprise and carried themselves in a manner that was disrespectful to the community and to law enforcement."
Joyner said, "They are very callous and appear to have believed that they were untouchable."
Bailey, 57, was shot multiple times on 14th Street near Alice Street shortly before 7:30 a.m. Thursday as he was walking to his job as editor of the Oakland Post several blocks away at 405 14th St.
Joyner said North Oakland residents who live near the bakery, which is located at 5832 San Pablo Ave. in Oakland, "are living in fear" and have been afraid to come forward to cooperate with police, whom he said are investigating a series of murders, assaults and kidnappings that they believe have been committed by bakery members.
Assistant Police Chief Howard Jordan said the bakery's most prominent member, Yusef Bey IV, 21, the grandson of Yusef Bey, who founded the bakery in 1968, was one of seven people arrested in raids at 5 a.m. today at the bakery and three other nearby locations.
Jordan said they are being held on suspicion they were responsible for the murder of Bailey as well as the murders of Odell Roberson, Jr., 31, on July 8 and Michael Wills, 36, on July 12.
Roberson and Wills were both killed near the bakery, Jordan said. The seven suspects also are being held on suspicion of kidnapping and assault for related incidents, Jordan said.
Two other suspects are still at large, he said.
Jordan said homicide investigators recognized similarities between the murders of Roberson and Wills and found gun evidence that links the two incidents.
Jordan said, "During our investigation of those incidents, Chauncey Bailey was murdered" and gun evidence links the suspects to that incident as well.
Jordan said Oakland police have been investigating people connected to the bakery for more than a year and today's raid was planned before Bailey was killed.
"It was very disheartening to hear of the incident (Bailey's death) and to hear that it was connected to our investigation," Jordan said.
"It's very unfortunate that Mr. Bailey was killed."
Joyner declined to talk about a motive for Bailey's death.
But Delmont Waqia, Bailey's brother-in-law, who attended the Police Department's news conference on the raid and arrests, said afterward that Bailey was working on a story about the bakery's operations.
Jordan said he wanted to stress that police don't believe Your Black Muslim Bakery has any connection to Louis Farrakhan and the Nation of Islam.
Referring to the alleged criminal activity and today's arrests, Jordan said, "This should not be seen as religious."
More than 200 heavily-armed officers from Oakland, Fremont, Hayward, Livermore and the Alameda County Sheriff's offices conducted the raids today.
Joyner said officers found more than 100 casings that were to be used in assault rifles.
Jordan said officers also closed the bakery because it had unsanitary living and eating conditions.
Yusef Bey IV faces numerous other cases in jurisdictions throughout the greater Bay Area.
He is scheduled to stand trial in San Francisco County Superior Court in September on three counts of assault with a deadly weapon for an April 28, 2006, incident in which he allegedly tried to use his BMW to run down several bouncers after being thrown out of the New Century Theater, a strip club on Larkin Street.
Bey and four other defendants also face charges that they vandalized two West Oakland liquor stores on Nov. 23, 2005, because they didn't want the stores to be selling alcohol in the black community.
A preliminary hearing for Bey and the other four men, which began last spring, is scheduled to resume on Aug. 28, Deputy District Attorney John Mifsud said today.
Two other defendants in the case pleaded no contest to felony vandalism last year and have been sentenced. Charges were dropped against two other defendants because of a lack of evidence.
Bey also faces four felony charges in Solano County for allegedly fraudulently obtaining a car on Oct. 14, 2005, by using someone else's identification to get credit to buy the vehicle.
Mifsud said Bey also faces four other unrelated cases in Alameda County: felony vehicle theft and misdemeanor charges of petty theft, resisting arrest and vehicle theft.
Assistant District Attorney Tom Rogers said Bey and the other suspects who were arrested today haven't been charged at this time because Oakland police officers are still completing their investigation and he won't see any police reports until Monday at the earliest.
Bailey's sister, Lorelei Waqia, who came to Oakland from her home in Atlanta after Bailey was killed, said funeral services tentatively are scheduled for Wednesday but the arrangements haven't been finalized yet.
Bailey's father, Chauncey Bailey, Sr., who lives in Des Moines, Ia., attended today's police news conference along with Waqia and her husband, Delmont Waqia.
Delmont Waqia said he wants to find out who killed Bailey and thinks whoever was responsible "is a mixed up, confused youngster who didn't realize what he was doing."
Copyright © 2007 by Bay City News, Inc. -- Republication, Rebroadcast or any other Reuse without the express written consent of Bay City News, Inc. is prohibited.
####