Tahoe visitors encouraged to explore despite fire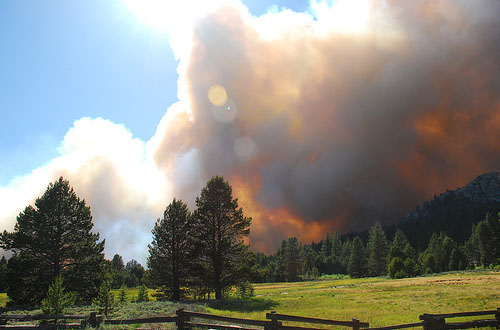 Photo courtesy TheNins
By Caitilin McAdoo and Ananda Shorey

June 26, 2007
Despite a raging wildfire that has destroyed about 220 homes and charred up to 2,500 acres, visitors to South Lake Tahoe are still encouraged to keep their plans.
"A lot of people don't realize where the fire is. The fire is really terrible, but it's in a residential area and it's not really affecting the businesses or the casinos as far as (being) a threat to them," said John Packer, Director of Public Relations and Entertainment for Harrah's and Harveys Lake Tahoe.
The fire, known as the Angora Fire, began at about 2 p.m. Sunday and has continued to burn out of control. As many as 1,000 structures remain threatened, fire officials said.
A mandatory evacuation is in place for the area and Lt. Gov. John Garamendi has signed an emergency proclamation declaring a state of Emergency for El Dorado County. According to the governor's office, the proclamation will provide state funding to cover the costs of fighting the fire and repairing damaged infrastructure.
No injuries have been reported as result of the blaze.
The fire is thought to have started in the mostly single-family subdivision of Tahoe Paradise, in the general vicinity of Mt. Rainier Street and North Upper Truckee Boulevard.
"It was a human-caused fire," said USDA Forest Service spokesman Rex Norman. There is no evidence that its origin is suspicious, he said.
The fire hasn't burned any campgrounds or hotels, and visitors are encouraged to keep their plans by getting outside, said Patrick Kaler, executive director of the Lake Tahoe Visitors Authority.
Concern about tourists' safety is the top priority, Kaler said. Hotels are keeping their guests informed by providing information regarding things like road closures.
U.S. Highway 50 is closed from Sly Park Recreation Area, which is near the town of Pollock Pines, to the California-Nevada state line, said
Darlene Whitmore, a transportation engineering technician with the California Department of Transportation.
Drivers can take eastbound Interstate Highway 80 to southbound state Highway 267 near Truckee, Whitmore said.
Worries about Fourth of July festivities and the summer tourism season being derailed because of the fire are not a concern, Kaler said.
"Once we have everything under control we should get right back to normal," Kaler said.
"The casinos are open and (the fire) is affecting us because of the people being able to come out, (but) it has not at this time physically affected the casinos," Packer said.
As firefighters work on battling the blaze, Packer said Harrah's and Harveys is focusing on helping out some employees who have lost their homes in the fire and those who have been evacuated.
"We do have a number of employees who have been affected so our effort today has been reaching out to our employees and providing rooms and food and whatever else they need and trying to make sure those folks are situated as well as they can be," Packer said.
Thirteen people stayed at the South lake Tahoe Recreation Department recreation center Sunday night, said Gavin Smith, a cashier. But officials are trying to get everyone into hotels or houses tonight, Smith said.
The center as well as local banks and businesses are accepting donations of toiletries, blankets, money and food.
"Right now the whole town is pulling together as much as they possibly can," Packer said.
Copyright © 2007 by Bay City News, Inc. -- Republication, Rebroadcast or any other Reuse without the express written consent of Bay City News, Inc. is prohibited.
####