Newsom opposes taxi fare hikes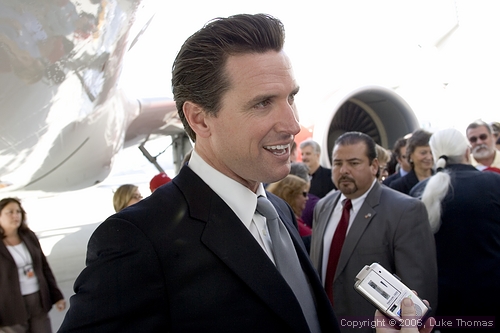 Mayor Gavin Newsom tells a reporter earlier today that he opposes a city controller-proposed taxi-fare hike citing negative impacts to drivers and the environment.
Photo(s) by Luke Thomas
By Brent Begin, Bay City News Service

October 11, 2006
SAN FRANCISCO (BCN) - A city controller-proposed increase in taxi fares drew criticism from San Francisco Mayor Gavin Newsom today as supervisors in the budget and finance committee look to propose changes by a Nov. 1 deadline.
The controversy around the cost of cab fares began in August when the city controller released a report recommending cab companies raise their gate fees - the price a cab driver must pay daily to lease a taxi - and their basic fares both by 8.23 percent.
A local union for drivers and maintenance workers, United Taxicab Workers, immediately opposed the increase and revealed that cab companies have been overcharging their gate fees for years anyway.
Newsom sided with drivers, stating in a letter sent to members of the budget and finance committee, which meets today, that an increase in fares would impact the revenue of the city's drivers.
But Newsom expressed even more concern over the impact on ridership and in turn the impact on the environment.
"Tens of thousands of local residents rely on taxis for their daily transportation to and from work, to visit family and friends, and to shop and eat in local businesses," Newsom wrote. "Taxi fare hikes impact the local day-to-day cost of living for these residents, who already face among the highest cost of living in the U.S."
The controller's report cited rising gas costs and inflation as reasons for the proposed increases. Unless the Board of Supervisors passes a resolution otherwise, the hikes will go into effect Nov. 1.
Two proposals are already on the table from supervisors Chris Daly and Aaron Peskin.
Both proposals would increase fares and gate fees, but they would only stay in effect if cab companies could agree on providing a San Francisco-wide health plan.
The difference between the plans, however, is that Daly's proposal would hold the hikes off until April 1, when the health package is expected.
Peskin's plan would increase prices immediately and then roll them back if companies don't agree on medical benefits by April.
Newsom disagreed with passing on fuel costs to consumers. He wrote that if gas prices were such a mitigating factor, then it would make sense for taxi companies to invest in alternative fuel or hybrid vehicles.
Average San Francisco cab fares are currently more expensive than Chicago, Houston, New York, Los Angeles and several other large cities, according to the controller's report.
Copyright © 2006 by Bay City News, Inc. -- Republication, Rebroadcast or any other Reuse without the express written consent of Bay City News, Inc. is prohibited.

####