Assessor-Recorder Ting
wants San Francisco to be solar leader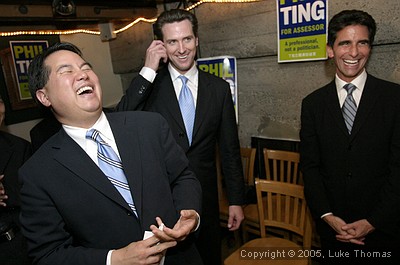 San Francisco Assessor-Recorder Phil Ting (left). File photo.
Photo(s) by Luke Thomas
By Jason Bennert, Bay City News Service

February 16, 2007
SAN FRANCISCO (BCN) - San Francisco Assessor-Recorder Phil Ting today announced the formation of a task force he called "the first step toward transforming our city into the leader in solar energy."
Standing among 60,000 square feet of solar panels on the roof of the Moscone Center, Ting said the San Francisco Solar Task Force will be charged with increasing community awareness and reducing the upfront costs of installing solar power systems for businesses and homeowners.
Small businesses in San Francisco face an increase in minimum wage as well as providing sick leave and health care for their employees, Ting said. Solar panels are a great way to save money amidst the rising cost of doing business, he said.
"Reducing the costs of installing solar systems of their rooftops will provide not only a health and environmental benefit to the city, but provide these business owners some much needed financial relief from the high cost energy market and from doing business in the city," Ting said.
In 2001, San Francisco voters approved a $100 million solar bond. "The city committed to obtaining all municipal energy from pollution-free sources, yet there is more work that needs to be done to involve the business community and homeowners," Ting said.
The newly-formed task force aims to streamline government, examining ways to provide incentives to those considering solar power, and creating solar marketing and consumer awareness campaigns, said David Hochschild, chief executive officer of the solar energy lobbying firm PV Now.
Hochschild co-chairs the task force with Ting.
The panel will also help homeowners and businesses defend against rising energy costs, Hochschild said.
"I think there's a real risk of another energy crisis and another catastrophic increase in energy crises," he said.
San Francisco has about 500 solar powered homes and businesses. Hochschild spent about $11,000 to install solar panels at his residence in the Mission District. That amount reflected his net expense. State incentives and federal tax incentives can cover up to 50 percent of the total cost of a solar system, Ting said.
Hochschild's power bill has been drastically reduced following installation of the panels, he said.
Copyright © 2007 by Bay City News, Inc. -- Republication, Rebroadcast or any other Reuse without the express written consent of Bay City News, Inc. is prohibited.
####