Treasure Island redevelopment moves forward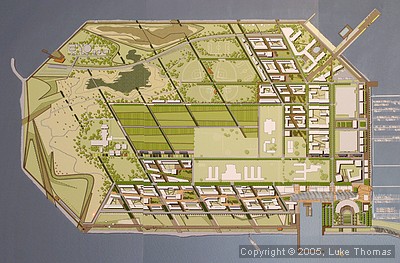 Photo(s) by Luke Thomas
By Emmett Berg, Bay City News Service

December13, 2006
SAN FRANCISCO (BCN) - A dozen years after the city first began reviewing ways to redevelop the former U.S. Naval Station at Treasure Island, a sweeping plan gained support yesterday from the San Francisco Board of Supervisors.
The legislators, in a 10-1 vote, gave their assent to a draft blueprint spelling out a vision of new parkland, residential towers, upscale retail shops, hotels and a ferry terminal on the side of the island facing San Francisco.
The current housing plan envisions 13,500 people living on Treasure Island -- there are now less than 1,500 residents -- all housed in residential towers and apartment blocks.
A substantial portion of the units would be priced below market, and no current resident would be displaced.
Treasure Island is an artificial landmass created in 1939 by dredging San Francisco Bay and piling up landfill. Connected by an isthmus to Yerba Buena Island, the U.S. Navy decommissioned its facilities on Treasure Island in 1996, the same year of the military decommissioning of the Presidio Army Base.
The military retains control over some facilities on the island, including a power plant, and city officials are interested in eventually taking control of the plant for use as a public power station.
Another idea under consideration is a $5 fee to be levied on vehicles entering or exiting Treasure Island during rush hour traffic times.
A planning official said the project could be accomplished without harming other city budget priorities. The redevelopment project would be funded by private investors and by borrowing money against expected future property taxes to be collected from Treasure Island, according to city Planning Director Michael Cohen.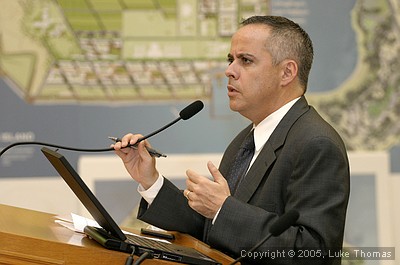 Base Reuse and Real Estate Development Director Michael Cohen
The only dissenting vote was from newly elected Supervisor Ed Jew, who said his opposition was based on his desire to give greater preferences to San Francisco residents when job opportunities arise from the redevelopment. There is already a 50 percent threshold for such local hiring preferences; Jew was seeking a 75 percent threshold but had no support from others on the board.
Copyright © 2006 by Bay City News, Inc. -- Republication, Rebroadcast or any other Reuse without the express written consent of Bay City News, Inc. is prohibited.

####