Investigators search for cause of Treasure Island fire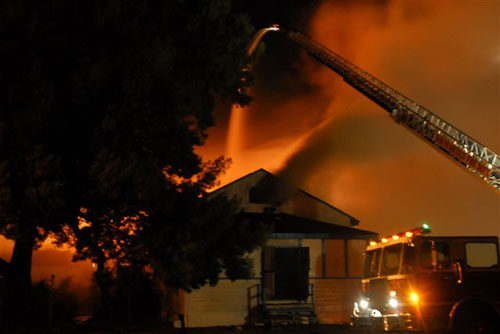 Fire crews battled a three-alarm fire Wednesday at an abandoned warehouse on Treasure Island. Fire investigators are searching for the cause of the fire.
Photos by Mark Grissom, special to Fog City Journal
By Caitlin Cassady and Matt Wynkoop

May 18, 2007
Fire investigators continue to search for what caused a three-alarm fire that destroyed an abandoned Navy barracks on Treasure Island Wednesday morning, Lt. Mindy Talmadge said.
The one-story, wood-framed building located at the intersection of Avenue H and Fifth Street is one of several abandoned military barracks that remain unused and boarded up on the island, Talmadge said.
Around 130 firefighters were called to fight the blaze, which burned for nearly two hours before it was brought under control.
Two firefighters were transported to a local hospital to be treated for minor burns suffered during the initial fire attack, Talmadge said.
The building, which is laid out in shape of an H, sustained the worst damage to its middle portion before flames spread outward to the rest of the structure, she said.
Fire crews were joined by the San Francisco fireboat, as sufficient water pressure was not available on the island to supply the six rigs fighting the flames, Lt. Ken Smith said early this morning.
San Francisco's portable pressure system was enabled so that fire trucks could hook up to hydrant junctures, which were being pumped directly out of the bay through a five-inch hose.
"The portable system takes a long time to set up, but once it is active it's a very effective way to fight fires,'' Smith said. This is the first time fire crews have used the five-inch portable system since the 1989 Loma Prieta earthquake.
Smith said fire crews were put into defensive mode because the abandoned barracks posed no immediate danger to any other structures.
"We aren't used to letting a fire burn freely in San Francisco, because there are so many buildings and people, but in this case it was better to let the building burn than risk the lives of firefighters,'' he said.
Two fire units stationed on Treasure Island responded to the flames at around 11:15 p.m. and immediately upgraded the fire to a second-alarm. Six fire units stationed within San Francisco soon joined the crews and the fire was upgraded to a third-alarm at around 11:48 p.m. The fire was contained at around 1 a.m.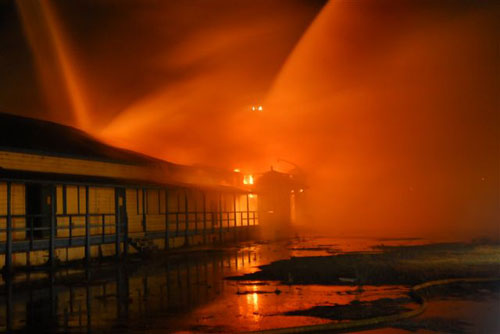 Copyright © 2007 by Bay City News, Inc. -- Republication, Rebroadcast or any other Reuse without the express written consent of Bay City News, Inc. is prohibited.
####