Supervisors approve new rent-controlled units
for Trinity Plaza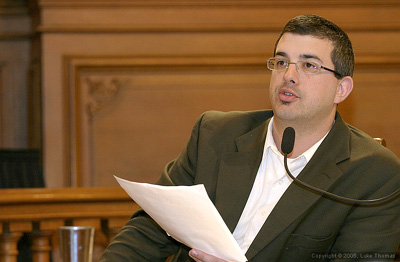 Supervisor Chris Daly championed a cause to protect low income tenants from displacement culminating in a deal reached between the City and developers
over the rebuilding of Trinity Plaza. The deal was approved by the Board of Supervisors Tuesday.
Photo(s) by Luke Thomas
By Elizabeth Daley, Bay City News Service

April 12, 2007
SAN FRANCISCO (BCN) - Building developers and residents of San Francisco's Trinity Plaza have reached an agreement to maintain all rent controlled units in a new building to be constructed at the site of their old home at Eighth and Market streets, a legislative aide to San Francisco Supervisor Chris Daly said Wednesday.
The agreement passed unanimously by the San Francisco Board of Supervisors this week, said Daly spokeswoman Rachel Redondiez.
Redondiez said that after a four-year struggle, Trinity Properties agreed to the demands of residents who organized a citywide campaign against the demolition of rent-controlled units.
"Over the past four years, I have witnessed a group of everyday San Franciscans organize to protect their community and to help save the soul of San Francisco. The tenants of Trinity Plaza truly love their neighbors and are unsung heroes of San Francisco," said Supervisor Chris Daly in a statement. "We are reminded that protecting the vulnerable is good for all of us"
Redondiez said current tenants would continue to reside in their old apartments as a new building -- will hold up to 1900 rental units -- is erected next to them. Once the building is complete, the residents will have first dibs on apartments in the new building. The old building will likely be demolished.
According to Redondiez, this is the first time a new building has been built with units regulated under the city's rent stabilization ordinance, which was established over a decade ago.
Redondiez said that when developers build new buildings on the site of demolished rent controlled buildings, developers do not usually replace the rent-controlled units they destroy.
While there was no law requiring Trinity Properties to maintain rent-controlled units, Redondiez suggested this new action could set a precedent for others building in San Francisco.
In addition to maintaining the rent controlled units, 230 new units will be built under San Francisco's Inclusionary Housing Program and will be available to households at 60 percent of the city's median income, which was $66,500 per person in 2005, according to the San Francisco Board of Supervisors.
Redondiez said the San Francisco Board of Supervisors will hold another vote on the project next week, and construction on the new building should be underway within 18 months.
In the final days of negotiations between San Francisco Supervisor Chris Daly and Trinity Properties, a prohibition of condo mapping on rent-controlled units and a timeline to deliver the first phase of the project, including all 360 rent-controlled units within 42 months, was agreed upon.
The city District Attorney's Office also requires the developers to prioritize local residents and businesses through City Build, First Source Hiring, and Local Business Enterprise participation, Daly's office reported.
Copyright © 2007 by Bay City News, Inc. -- Republication, Rebroadcast or any other Reuse without the express written consent of Bay City News, Inc. is prohibited.
####