San Francisco mourns the passing
of a murdered SFPD officer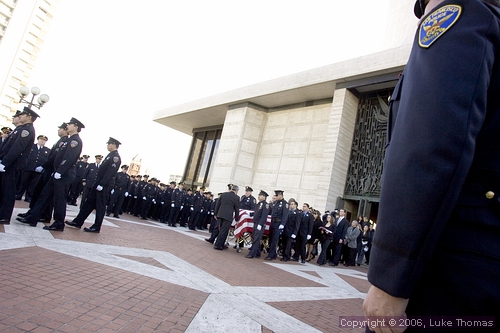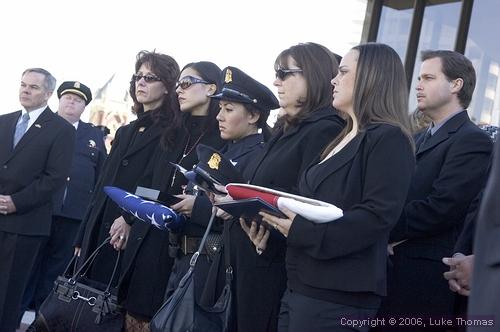 Family members of slain SFPD Officer Bryan Tuvera alight outside Saint Mary's Cathedral after an emotional funeral was held to honor his life and valiant service to San Francisco. Tuvera was murdered in the line of duty on December 22 while attempting to serve a warrant on a felon. Tuvera was 28 years old and wedded for two months when he died. Photo(s) by Luke Thomas
By Brent Begin, Bay City News Service

December 29, 2006, 2:28 p.m.
SAN FRANCISCO (BCN) - Thousands of mourners, most in the dress blues of the San Francisco Police Department, paid their respects for murdered officer Bryan Tuvera today during an emotional ceremony at St. Mary's Cathedral.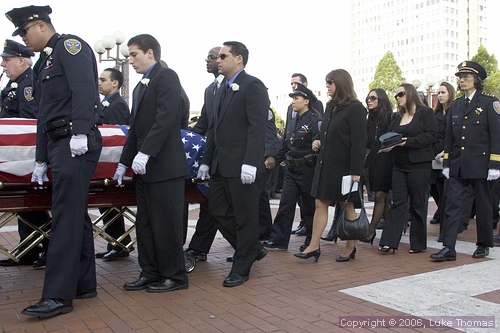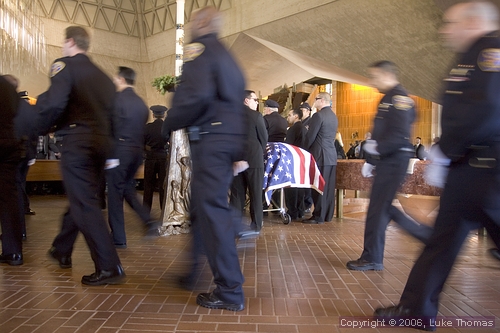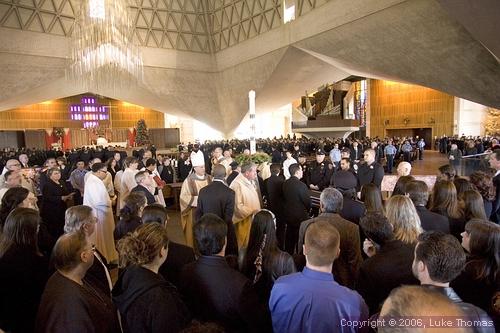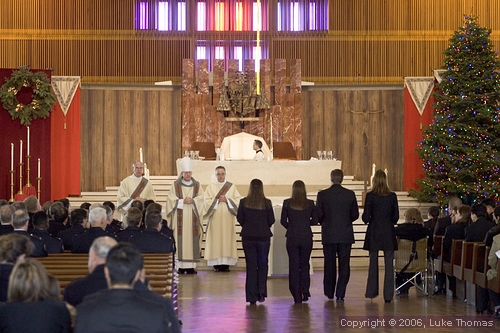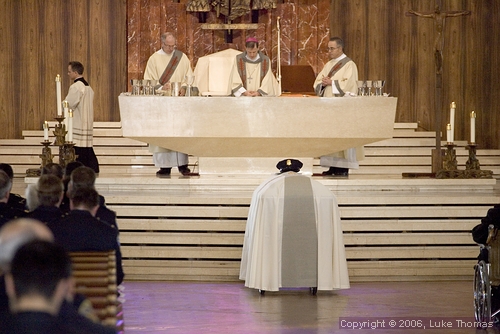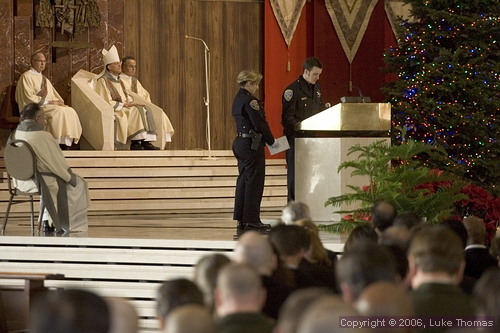 It was the third memorial for a slain San Francisco officer at the massive cathedral in less than three years. Law enforcement from as far as Nevada and Southern California came to pay their respects.
Many of the mourners who did not know Tuvera personally were provided glimpses into the man's life. He was not only a decorated police officer and newlywed, but he also collected comic books and watched professional wrestling.
Among a collection of elegant floral bouquets and arrangements stood one mosaic of black and yellow flowers arranged in the symbol of Batman, one of Tuvera's favorite superheroes.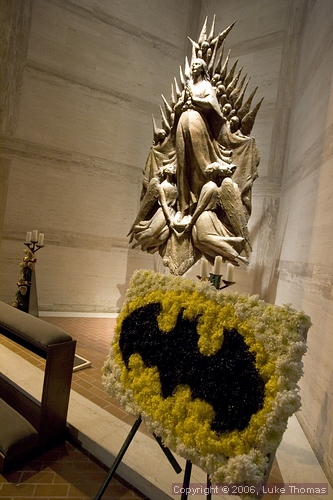 The sentiment among many of the dignitaries and religious leaders who spoke today was that Tuvera was one of their favorite heroes.
"We are alive, we are safe and we are free today because of officers like Bryan Tuvera who work around the clock to protect the people of our city," police Chief Heather Fong said.
"We are seeing too much tragedy ... but we in the San Francisco Police Department are undeterred in our commitment. When help is needed, do not hesitate to call. Officers just like Bryan Tuvera will continue to respond. We always have and we always will, no matter what."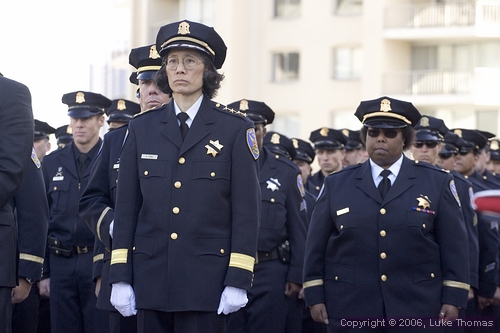 San Francisco Chief of Police Heather Fong
Tuvera died Saturday morning, a minute past midnight, after an escaped felon shot him as he tried to make an arrest.
California Attorney General Bill Lockyer told the crowd that the hardest part of his job was speaking at the funerals of fallen officers. He said the best part was watching a father pin a badge on his son as he joins the police force.
For Tuvera, who came from a family of police officers, becoming a cop was a natural thing.
His father Benny, who served as a San Francisco police dispatcher, never had the opportunity, however, to watch his son become a police officer because he died of a heart attack 12 years to the minute before Tuvera died.
"He is with your son today and they have reunited in an extraordinary way," Mayor Gavin Newsom told Tuvera's weeping family members.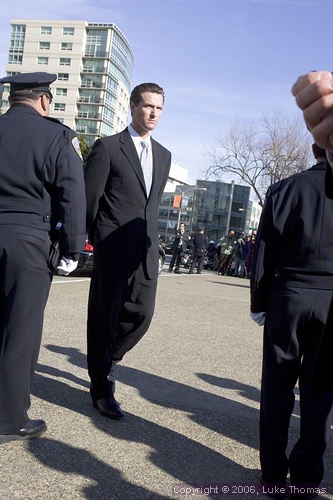 Mayor Gavin Newsom
"He found his purpose. He found incomparable nobility. He is a hero."
Tuvera's cousin, Steven Leonard, performed the eulogy. Leonard mentioned Tuvera's beautiful relationship with his wife and his dedication to family.
"For some reason, I don't have any hatred in my heart surrounding the circumstances of his death," Leonard said. "There is just too much hurt. It can't be real."
Gary Delagnes, president of the San Francisco Police Officers Association said he was angry at the loss of a good man and the lack of public outcry.
"Oftentimes the death of a police officer is treated as collateral damage. It comes with the profession, some people say," Delagnes said. "I read the paper the days following Bryan's death. I saw no public outrage ... Collateral damage? Not to us."
Attendees at the funeral who didn't speak included several San Francisco supervisors, District Attorney Kamala Harris, state Assemblywoman-elect Fiona Ma, and Oakland Mayor and Attorney General-elect Jerry Brown.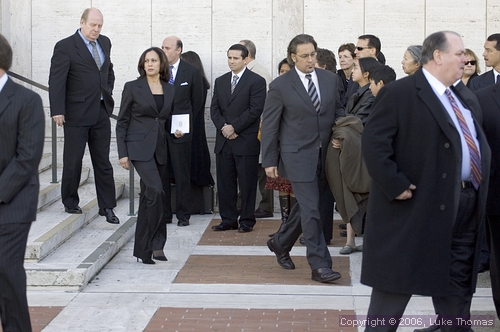 Tuvera, a four-and-a-half-year veteran of the force, is survived by his wife Salina, mother Sandy, sister Tracee, grandparents Shirley and Stanley Scoville along with his in-laws and many aunts, uncles and cousins.
A motorcade was scheduled to pass the Hall of Justice on its way to the Woodlawn Cemetery in Colma where he was to be buried.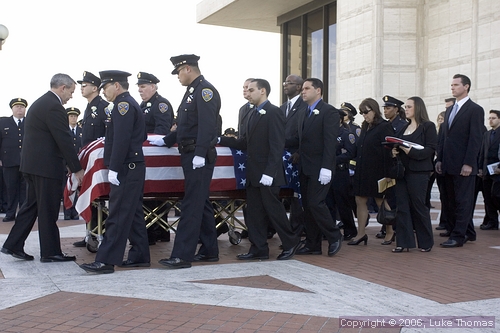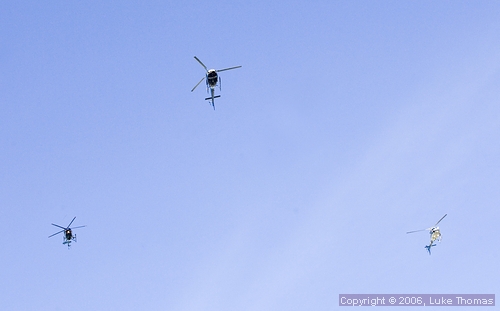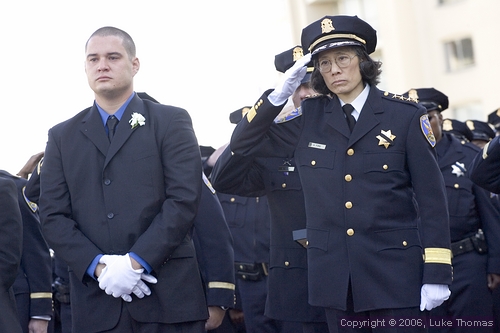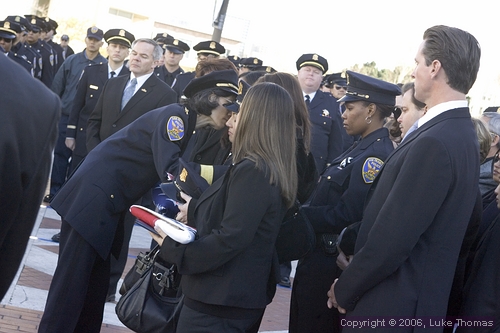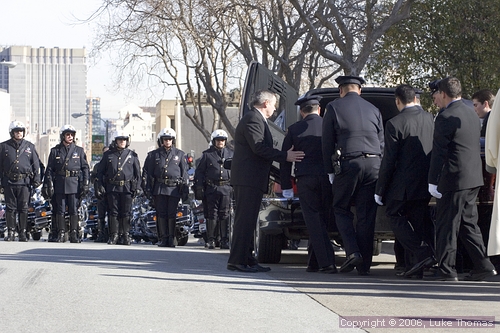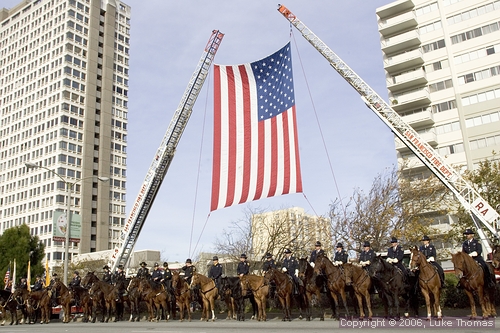 Copyright © 2006 by Bay City News, Inc. -- Republication, Rebroadcast or any other Reuse without the express written consent of Bay City News, Inc. is prohibited.

####