San Francisco Police Department creates trust fund
for slain Officer Tuvera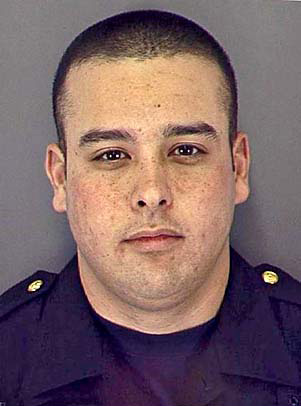 San Francisco Police Officer Bryan Tuvera, RIP.
Photo courtesy SFPD Public Affairs
By Emmett Berg and Brent Begin, Bay City News Service

December 27, 2006
SAN FRANCISCO (BCN) - The San Francisco Police Department announced yesterday the creation of a trust fund in the name of Bryan Tuvera, the 28-year-old officer shot to death on Dec. 23 while apprehending an escaped felon.
Donations to the fund, #1366523, can be made at the San Francisco Police Credit Union, a San Francisco police officer said. Another option for donations is to visit the department's public affairs office on the second floor at 800 Bryant Street, the officer said.
Tuvera was married this year to another San Francisco police officer, according to media reports.
No other details of the fund were immediately available.
St. Mary's Cathedral is preparing to play host to thousands of mourners who will pay tribute to Officer Tuvera with a candlelight vigil Thursday night and a service Friday morning
Tuvera's was the third San Francisco police officer to die in the line of duty in eight months.
And while officers are quiet about the death of Tuvera early Saturday, a spokesman with the Police Officers Association said he speaks for the department when he expresses the sorrow that everybody feels.
"What can I say other than Bryan's loss is a devastation to this department," said union Vice President Kevin Martin, who knew both Officer Tuvera and his father Bennie, who worked as a police dispatcher in San Francisco.
"I knew Bryan when he first broke into the department," Martin said. "He served with a distinguished serenity. He was very quiet, very gentle. He didn't have to prove himself by putting on a tough guy image."
Tuvera died at 12:01 a.m. Saturday, exactly 10 years to the minute after his father died.
He was attempting to arrest Marlon Ruff, 33, who had escaped from a Northern California state correctional work camp on Feb. 27, 2005, according to Bill Sessa with California Corrections and Rehabilitation.
"It's rare that an escapee does not get caught," Sessa said. "It's really unfortunate that this escapee wasn't caught before this weekend."
Ruff died inside the Sunset District garage where the shootout occurred. Police have not released any details as to who shot Ruff or the name of Tuvera's partner who was with him at the time.
Officers were shocked by the news, according to Martin, especially in the Taraval station where Tuvera worked.
However, officers are putting aside those feelings and getting back to work.
"We don't shut down. We just keep serving the people of San Francisco," Martin said. "This just underlines the perils if serving on the force. Sometimes you never know if you're coming home."
Both the candlelight vigil, scheduled for Thursday at 7 p.m., and the memorial service, scheduled for Friday at 10 a.m., are to be held at St. Mary's Cathedral at 1111 Gough St.
Copyright © 2006 by Bay City News, Inc. -- Republication, Rebroadcast or any other Reuse without the express written consent of Bay City News, Inc. is prohibited.

####