Studies conclude: TV makes kids fat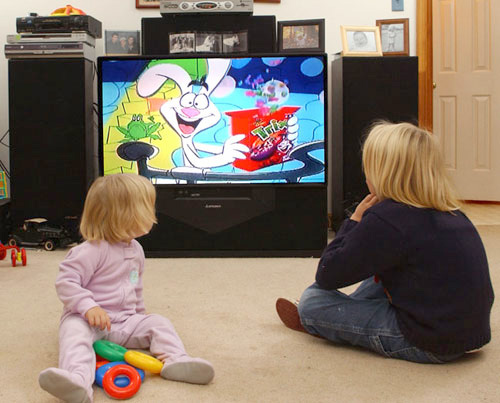 Photo courtesy The Future of Children
By Elizabeth Daley, Bay City News Service

March 1, 2007
SAN FRANCISCO (BCN) - Two studies released Wednesday by the American Heart Association at the 47th annual conference on Cardiovascular Disease Epidemiology and Prevention shed light on the eating habits of children.
One study found a correlation between hours of television watched by 3-year-olds and the development of poor eating habits. Another study found that impoverished children and children who were members of a minority group were more likely to be obese.
According to Dr. Nadine Burke, medical director of the Bayview Child Health Center, the results of both studies are related.
Burke said there were fewer opportunities to play outside in lower income communities. As a result, children may sit inside and watch TV, causing them to become unhealthy.
"One of the main reasons increased TV watching is associated with obesity is not only because watching TV burns less calories than sleeping, but because watching TV is often associated with mindless snacking. You are likely to eat more calories in front of TV because you are not paying attention to your intake," said Burke.
Additionally, Burke said, "Commercials on TV are all for sugar cereals and fast food, which makes kids want to beg their parents for it."
She said many junk food ads are specifically targeted towards children and air after school or on Saturday mornings.
However, it was through a television program that Burke decided to reach out to low income children in San Francisco's Bayview district.
Burke worked with a 12-year-old Bayview boy named Christopher for a reality TV show called "Let's Just Play," which airs on Nickelodeon.
Burke said she and Christopher found ways to make his community healthier. Christopher "met and talked to the food preparation person at his school, talked to his school principle and met with director of district nutrition discussing ways he could help improve nutrition," said Burke.
At the end of the series, she said Nickelodeon "went off the air for three hours so kids would go outside and play, which is unheard of for a major network."
Burke admitted it was paradoxical that one of the reasons Christopher inspired his community to get healthy was because he represented them on a national television show.
"It's a big part of public health to begin by meeting people where they are. If people are watching TV and that is more likely to make them unhealthy and obese, you can start with a TV program and use the same medium that a lot of unhealthy corporations like McDonald's and these companies use to entice people to eat their food, to address a national problem like obesity."
Copyright © 2007 by Bay City News, Inc. -- Republication, Rebroadcast or any other Reuse without the express written consent of Bay City News, Inc. is prohibited.
####