Schwarzenegger adminstration
appealing video games decision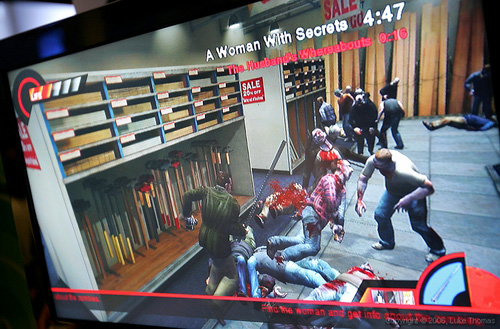 Photo by Luke Thomas
By Jason Bennert
September 5, 2007
The Schwarzenegger administration filed an appeal today with the 9th U.S. Circuit Court of Appeals over a San Jose federal judge's decision striking down a 2005 state law that banned the sale of violent video games to children.
Last month, U.S. District Court Judge Ronald Whyte made permanent his December 2005 order barring enforcement of the law on the grounds that it violated the First Amendment protection of free speech.
However, Andrea Lynn Hoch, the legal affairs secretary to Gov. Arnold Schwarzenegger, said the law was narrowly tailored enough that it does infringe on free speech.
"It's a compelling state interest to protect our children from these ultra-violent video games,'' Hoch said.
The appeals process is a lengthy one and it could be years before the 9th Circuit reaches a decision.
"My guess is you have 18 months to two years minimum before you have a decision,'' Hoch said.
Either side could appeal that decision to the U.S. Supreme Court.
Hoch would not say if the administration was prepared to take the case all the way to the U.S. Supreme Court.
Copyright © 2007 by Bay City News, Inc. -- Republication, Rebroadcast or any other Reuse without the express written consent of Bay City News, Inc. is prohibited.
####