Governor touts Virgin America job possibilities
for California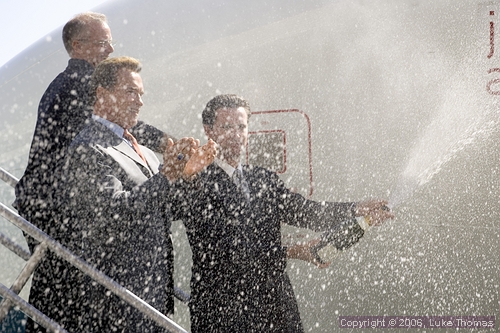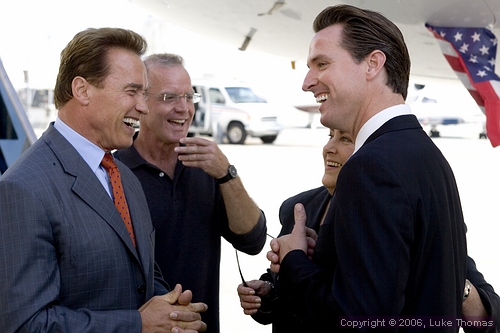 Gov. Arnold Schwarzenegger, CEO Virgin America's Fred Reid, rock and roll legend Grace Slick, and Mayor Gavin Newsom share a few bubbly giggles after a champaigne christening of "Jefferson Airplane", a Virgin America Airbus A320 named after and in honor of the rock and roll hall of fame group Slick headed up in San Francisco in the mid-to-late sixties.
Photo(s) by Luke Thomas
By Ari Burack, Bay City News Service

October 11, 2006
SAN FRANCISCO INTERNATIONAL AIRPORT (BCN) - Gov. Arnold Schwarzenegger today praised the prospect of new jobs for Californians, including unemployed airline workers, at an unveiling of Virgin America's first airplane at San Francisco International Airport.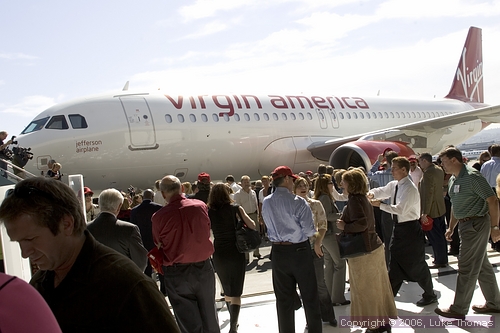 Though Virgin America, a new domestic airline based at SFO, is still waiting for approval from the U.S. Department of Transportation to open its business after it filed its application in December, spokesman Gareth Edmondson-Jones said this event was intended to get the airline's brand name more visibility.
"This was getting the word out,'' he said.
Edmondson-Jones said the airline hoped to get final approval within the next month so that it could start selling tickets in January and begin flights in March.
At today's ceremony with airline officials, Schwarzenegger lauded the airline's decision to choose San Francisco as its base of operations and its potential to add jobs to the state economy.
"That means 1,700 new jobs in California and that is music to my ears,'' Schwarzenegger said.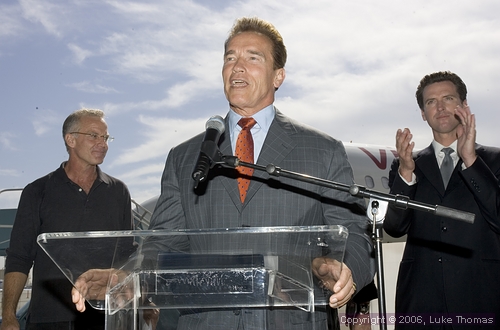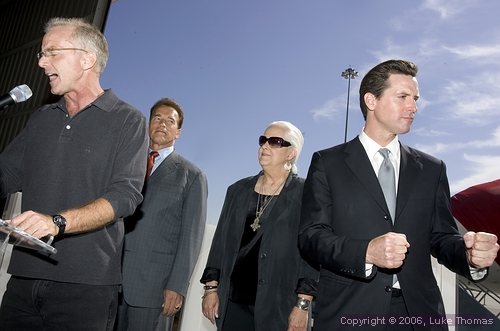 Though Edmondson-Jones said the airline has only hired 100 people so far, he agreed that the estimate of 1,700 new jobs was feasible, taking into account the theory that about 15 indirect jobs are created for each direct hire.
According to the governor's press office, the governor's administration helped secure a $10 million incentive for Virgin America to retrain and rehire local, unemployed airline workers, including some who may have been laid off after Sept. 11, 2001.
Airline officials project that, once underway, the airline could hire approximately 1,000 people each year, according to Edmondson-Jones. Virgin America has licensed the Virgin brand name from Richard Branson's Virgin Group, but is not directly affiliated with Virgin Atlantic Airlines, Edmondson-Jones said.
The Virgin Group owns a 25-percent minority stake in Virgin America, while the remaining 75 percent is owned by U.S. investors, he said.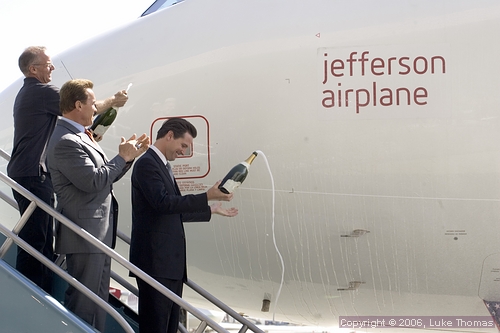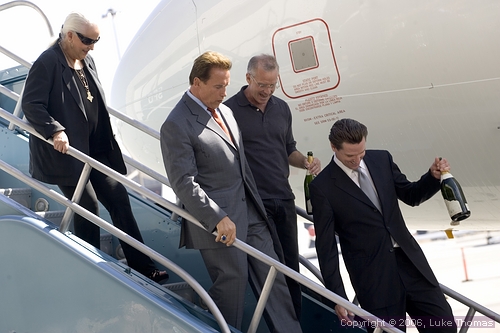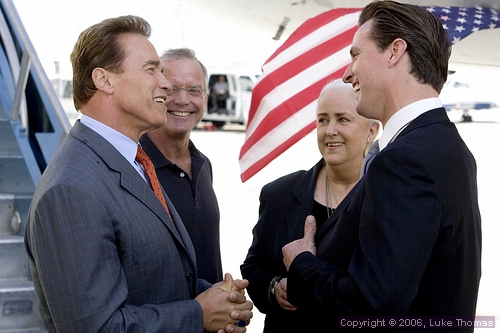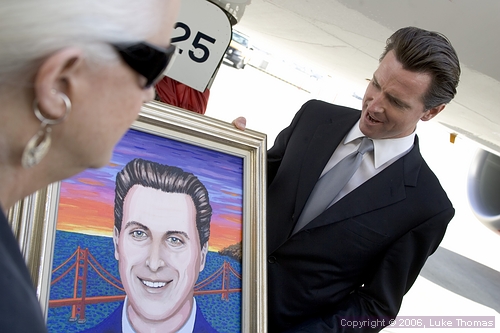 The Gavinator receives a portrait of himself painted by Grace Slick.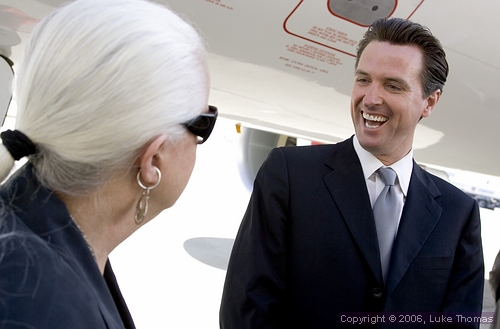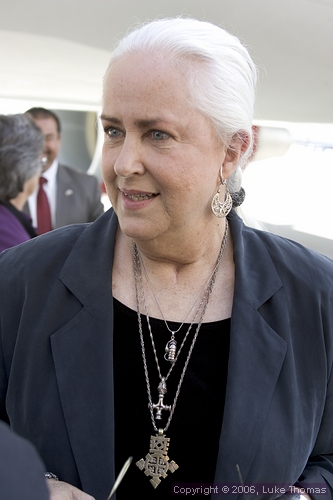 Grace Slick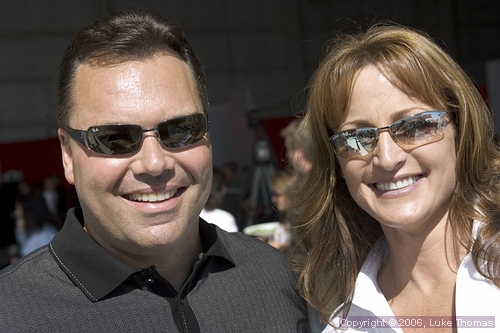 "Jefferson Airplane" Captain Rob Bendall and wife Michelle Bendall.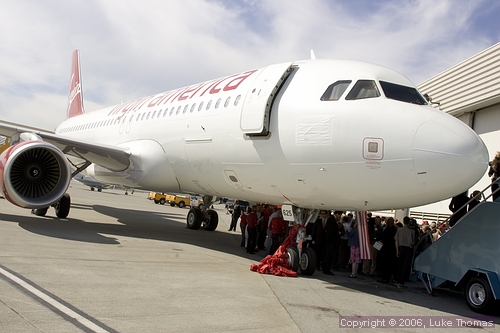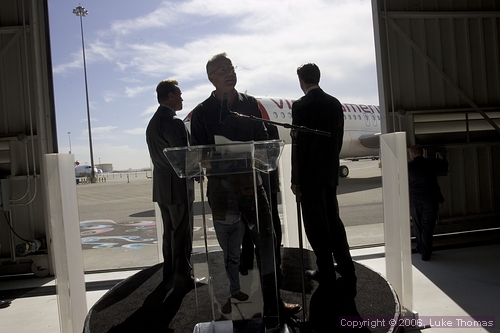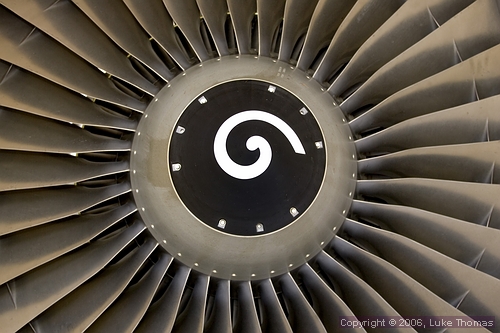 Copyright © 2006 by Bay City News, Inc. -- Republication, Rebroadcast or any other Reuse without the express written consent of Bay City News, Inc. is prohibited.
####