Aftershocks of Virginia Tech shooting massacre felt throughout Bay Area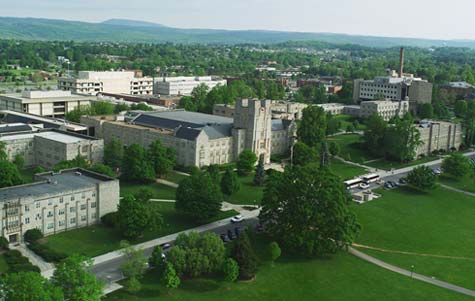 Virginia Tech university campus
Photo courtesy VirginiaTech magazine
By Tamara Barak, Bay City News Service

April 16, 2007
Two shootings that left 33 people dead on the Virginia Tech campus this morning shocked alumni who have settled in the Bay Area and prompted the University of California president to vow to review UC's safety procedures to avert a similar tragedy.
San Francisco resident John Emami, who graduated from Virginia Tech in 2005, learned of the massacre through a friend's text-message. Emami immediately began trying to contact friends who still attend the school.
"I shot a group of people text messages to make sure they were OK," he said.
Emami's friends are all accounted for this afternoon, and he was able to speak to some of them shortly after the ordeal.
"It's just chaos down there, pretty much. They were making everyone stay inside and they didn't know what was going on at first," Emami said.
According to university officials, the incident began with a 911 call to the university police at 7:15 a.m. Officers responded to West Ambler Johnston Hall to find two shooting victims. Both victims died.
West Ambler Johnston Hall is a co-ed dormitory that houses almost 900 students and is one of the largest residential buildings on campus.
Two hours later, while police were investigating the incident, another call came in reporting a second shooting, the university reported.
The second attack took place in Norris Hall, an engineering building about a half a mile away from Ambler Johnston Hall. Thirty-one people, including the gunman, died at Norris Hall. Another 15 people shot in that location are hospitalized, the university confirmed.
Walking briskly, it would take someone about 15 minutes to travel the distance between the two locations, Emami said.
For Emami, the shooting hit especially close to home. The former engineering student attended classes at Norris Hall and lived for a time in West Ambler Johnston Hall, known to students as "West AJ."
"It's just shocking," he said.
San Francisco resident Nathan Frankel, who graduated from Virginia Tech in December of 1995, was also shaken by the news. Frankel said he heard the news from his father, who lives a couple of hours from the campus.
"My dad e-mailed me this morning and he said there was a shooting and that one person was killed. By the time I clicked on the link to the news story, it was up to 20. I was really shocked," said Frankel, who also attended classes in Norris Hall.
The campus is located in the town of Blacksburg, which Frankel described as a place where crime is relatively uncommon.
"It's a very quiet town. If there was one murder in the year, people were surprised and took notice of it. I can't even imagine an event of this magnitude," Frankel said.
Blacksburg is essentially a college town, Emami said. "It's just a peaceful southwest Virginia town. Not much goes on besides college," he said.
University of California President Robert Dynes said the UC system would review its safety policies in light of the shooting.
"Clearly, University campuses are not immune from the threats of violence that exist in our broader society," Dynes said in a statement released this afternoon.
U.S. Senator Dianne Feinstein, D-Calif., also issued a statement today, saying her "heart nearly stopped" when she heard about the attacks.
"In an instant, the hopes and dreams of students were destroyed by a cowardly and terrible act of insane violence. My deepest condolences go to all those touched by this violence," Feinstein said.
The senator also criticized the availability of guns.
"It is my deep belief that shootings like these are enabled by the unparalleled ease with which people procure weapons in this country. And I believe this will reignite the dormant effort to pass common-sense gun regulations in this nation."
Virginia Tech President Steger called the shootings "a tragedy of monumental proportions."
"The university is shocked and horrified that this would befall our campus. I want to extend my deepest, sincerest and most profound sympathies to the families of these victims, which include students," Steger said in a written statement.
University officials are in the process of notifying the victims' families.
"I cannot begin to convey my own personal sense of loss over this senselessness of such an incomprehensible and heinous act," Steger said.
The university is providing counseling to those affected by the shootings.
Copyright © 2007 by Bay City News, Inc. -- Republication, Rebroadcast or any other Reuse without the express written consent of Bay City News, Inc. is prohibited.
####