Virginia Tech Alumnus, Bishop to Lead Service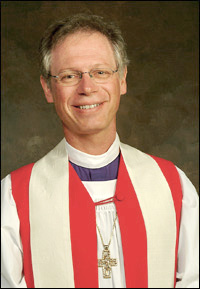 Episcopal Bishop of California Marc Handley Andrus
Photo courtesy Episcopal News Service
By Tamara Barak, Bay City News Service

April 17, 2007
Episcopal Bishop of California Marc Handley Andrus, a graduate of Virginia Tech, will lead a service at San Francisco's Grace Cathedral on Tuesday dedicated to those who perished during the mass shooting at the college.
The public is welcome to attend the 12:10 p.m. sermon and special holy Eucharist. The event is a chance to express solidarity with those who are mourning, said Andrus.
"Everyone stands in complete solidarity for those who have lost so much there and at the same time, it awakens our compassion for people who are living with loss around the world," said the bishop, who is based in San Francisco and serves the Bay Area Episcopal community.
Andrews earned his master's degree in urban and regional planning from the university in 1982. His wife holds a doctorate degree from Virginia Tech.
Monday's shooting, in which 23-year-old student Cho Seung-Hui killed 32 people before fatally shooting himself, stunned Andrus. He has been in touch with the campus ministry where he once worked and has offered them any help they need, he said today.
Andrus said the university and neighboring community enjoys a supportive culture that will serve them well as they weather the tragedy.
"I'm confident every campus ministry and organization and fraternity and sorority is reaching out to everyone there and everyone outside their circles," he said.
At least one local university is also holding services to remember the dead in Virginia.
At Stanford University on Wednesday, Rabbi Patricia Karlin-Neuman, senior associate dean for religious life and Rev. William L. "Scotty" McLennan Jr., dean for religious life, will lead a 4:30 p.m. service in the campus' Memorial Church.
Copyright © 2007 by Bay City News, Inc. -- Republication, Rebroadcast or any other Reuse without the express written consent of Bay City News, Inc. is prohibited.
####