Voting machines susceptible to abuse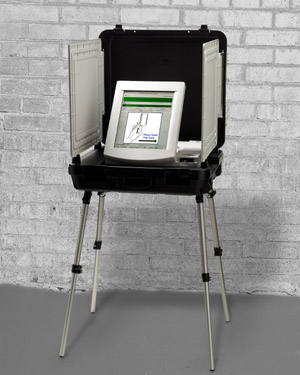 Photo courtesy Caltech/MIT Voting Technology Project
By Jeff Shuttleworth, Bay City News Service
November 2, 2006
OAKLAND (BCN) - Electronic voting machines made by an Oakland company have a button in the back that can allow someone to vote multiple times, but election officials said today that it would be nearly impossible for anyone to misuse the machines.
California Secretary of State spokeswoman Ashley Giovannettone said her office is aware of the feature on machines made by Sequoia Voting Systems, but she said the feature "is not easily accessible or easily-used" and poll workers are trained to look out for any misuse.
Alameda County Registrar of Voters spokesman Guy Ashley said it's theoretically possible for the machines to be misused to allow someone to vote multiple times but "it's not something someone could do easily" and would require "a rigorous series of steps."
Giovannettone said, "It's virtually impossible for misuse to occur and not be noticed."
Sequoia officials didn't return phone calls seeking comment.
Giovannettone said 21 counties in California use Sequoia's machines.
Giovannettone said the company's touchscreen voting machines for years have had a yellow button on the back which serves as a backup for the typical method of voting on the machines.
In most counties, poll workers use a separate machine to activate a card that a voter inserts into the touchscreen in order to retrieve the proper ballot.
The yellow button is for counties that can't afford the separate machine or for cases when the card activator becomes inoperable.
Ashley said any misuse should be obvious to poll workers because the button makes a loud noise when it's pushed and "there's no reason for anyone to be on the backside of the screen" in the first place.
Ashley said misusing the machines is a fraud and anyone caught doing so will be prosecuted.
Giovannettone said in most counties that have Sequoia's machines, they primarily are used by disabled voters, with other voters using paper ballots.
Ashley said that's the case in Alameda County, which means that most voters won't use the machines.
Copyright © 2006 by Bay City News, Inc. -- Republication, Rebroadcast or any other Reuse without the express written consent of Bay City News, Inc. is prohibited.
####