El Tri rock fans riot in Watsonville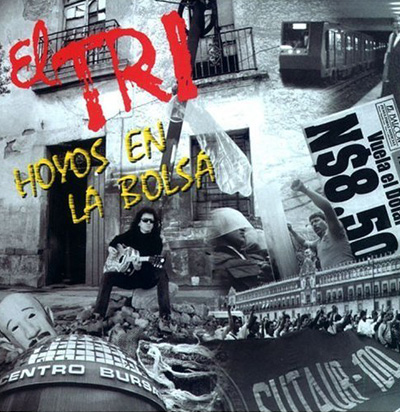 Illustration courtesy Lyricsdownload.com
By Elizabeth Daley, Bay City News Service

February 26, 2007
WATSONVILLE (BCN) - A concert at the Veterans Memorial Building in Watsonville Sunday night turned into a large-scale riot, according to Watsonville police Sgt. Saul Gonzalez.
Gonzalez said an angry mob threw bottles, vandalized cars and destroyed musical equipment when they learned headlining Mexican rock band El Tri would not be performing.
Concert promoters Promociones Mexico Lindo had sold as many as 750 $60 tickets to the show in advance, and continued to sell tickets at the door, said Gonzalez.
When the promoter ran out of opening acts at around 9:50 p.m., he had to tell the crowd that El Tri was not going to be performing because they were stuck in a snowstorm, Gonzalez said. According to Gonzalez, this was when the 400-person riot began.
When officers arrived at the venue they found complete pandemonium. According to Gonzalez, people had barricaded themselves inside the concert venue and were destroying switchboards and refusing to leave.
Others poured into the streets, "they popped tires, tried to tip other cars over, broke windows," said Gonzalez, acknowledging, "It was kind of a funny scene, it doesn't happen a lot in Watsonville."
Rioters even set one vehicle, believed to belong to the promoter, on fire. "By the time we got to it, it had burned out," said Gonzalez.
The promoters "handed out tickets for a free concert, scheduled for tonight, but I don't know if that is going happen after the amount of damage that has been caused," Gonzalez said today.
The over two-hour long riot caused at least $75,000 in damage and prompted Watsonville police to call for outside assistance, gathering 40 officers from area police departments to assist in disbursing the crowd.
When the riot finally ended at around 12:30 today, one of the officers wanting to know what all the fuss was about, found El Tri online.
"It's kind of heavy metal rock in Spanish," said Gonzalez, "we weren't into it."
Copyright © 2007 by Bay City News, Inc. -- Republication, Rebroadcast or any other Reuse without the express written consent of Bay City News, Inc. is prohibited.
####