Governor Schwarzenegger signs bill
to protect wireless privacy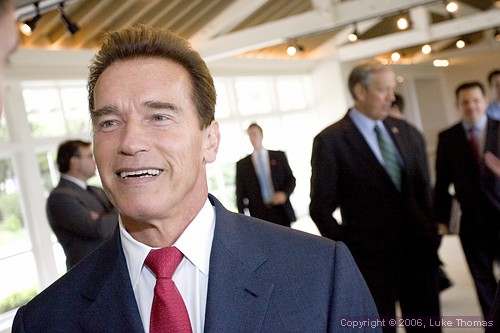 Governor Arnold Schwarzenegger.
Photo(s) by Luke Thomas
By Elizabeth Daley, Bay City News Service
October 3, 2006
Recognizing that wireless devices often display personal information unbeknownst to their users, Gov. Arnold Schwarzenegger has signed AB 2415, requiring wireless home networking equipment manufacturers to provide a warning label on such devices advising consumers how to protect their personal information.
The new requirements will go into effect on Oct. 1, 2007, the governor's office reports.
"Helping to electronically protect private information in this technologically advanced era is extremely important as identity theft is on the rise," Schwarzenegger said. "This legislation will help educate and protect consumers from becoming victims of hackers and the vulnerabilities of an unsecured network."
Identity and personal information theft has become an increasing problem, costing victims and businesses billions of dollars every year.
According to the governor's office, most people are unaware of the risks associated with the use of unsecured wireless network devices, allowing their information to be accessed by unauthorized users who access their network connections through wireless devices.
The governor's office reports that a warning label on wireless devices would reduce the occurrence of identity theft by educating consumers about the risks they may be taking and providing consumers with ways to secure their connections.
AB 2415 may also discourage users from maintaining open wireless networks, creating more business for Internet service providers.
Copyright © 2006 by Bay City News, Inc. -- Republication, Rebroadcast or any other Reuse without the express written consent of Bay City News, Inc. is prohibited.

####