San Francisco police defend handling
of Yale choir attack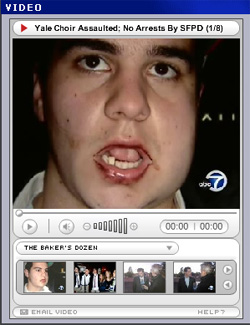 Screenshot courtesy KGO-TVDT
By Brigid Gaffikin, Bay City News Service

January 13, 2007
SAN FRANCISCO (BCN) - San Francisco police Chief Heather Fong yesterday issued a statement refuting claims that the Police Department is not investigating with sufficient urgency a fight in the city's Richmond District on New Year's Day that has garnered a lot of public attention.
Police first got calls at 12:43 a.m. about the fight in the 100 block of 15th Avenue, Sgt. Neville Gittens said. Those involved in fight had come from a party at a nearby home, he said.
Officers responding to the area were approached by a group of people who pointed at four others, saying they had been involved in the fight, Gittens said.
Police detained the four but when they went to speak with the first group, who had fingered the four apparent suspects, they had all left, he said.
It later came to police attention that some people at the party were Yale University students, members of the choral group The Baker's Dozen, he said.
"Members of the group were involved in the fight," he said.
On its Web site, the group urged a swift resolution to the investigation, saying, "The Baker's Dozen are deeply disturbed by the events of New Year's Eve, a violent and unprovoked attack on members of the group while sharing their music with San Francisco residents as part of a West Coast concert tour."
Gittens said that immediately after the fight, with nobody available to make a complaint to police about any criminal activity that might have taken place, the four were identified and released.
No arrests have been made in the investigation.
Fong said police are continuing to look into what she described as a "violent attack."
"The San Francisco Police Department is committed to conducting a diligent, thorough and unbiased investigation, which necessitates obtaining all of the facts surrounding the incident. Because it is necessary to interview all persons concerned -- and there are over 50 -- the investigation necessarily takes time. Once the investigation is complete, it will be submitted to the district attorney's office," Fong said.
"A great deal of misinformation regarding this case has been disseminated by persons who do not have full knowledge of the events or the investigation. The San Francisco Police Department is determined to identify those individuals who are responsible for the injuries sustained by the victims."
Copyright © 2007 by Bay City News, Inc. -- Republication, Rebroadcast or any other Reuse without the express written consent of Bay City News, Inc. is prohibited.

####