Yee appointed Assistant President of State Senate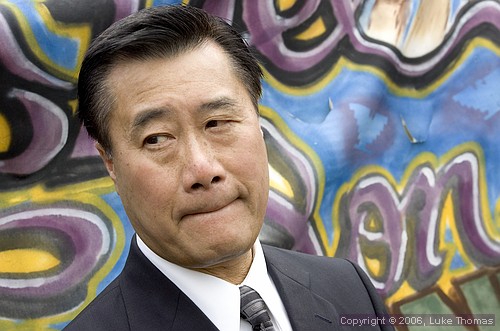 California State Senator Leland Yee appointed to the position
of Assistant President pro Tem of the California Senate earlier today.
Photo(s) by Luke Thomas
By Elizabeth Daley, Bay City News Service

January 16, 2007
State Senate President pro Tem Don Perata, D-Oakland, has appointed state Senator Leland Yee, D-San Francisco/San Mateo to the position of Assistant President pro Tem of the California Senate.
Yee is to preside over state Senate floor proceedings as needed and serve on the Democratic caucus leadership team for the 2007 to 2008 legislative session.
"Senator Yee has a strong track record for mental health services, working families, children, civil rights and the environment," Perata said.
"I am glad to welcome Senator Yee to our leadership team as we work to build on last year's accomplishments and continue tackling California's most pressing problems."
Lee said, "I am honored that Senator Perata has asked me to serve on his leadership team. I look forward to serving in this new capacity and working with him to help protect our children, hold polluters accountable, expand access to healthcare and affordable prescription drugs, and bring more jobs to California."
Copyright © 2007 by Bay City News, Inc. -- Republication, Rebroadcast or any other Reuse without the express written consent of Bay City News, Inc. is prohibited.

####