New autopsy report points to foul-play
in car trunk death case
Police deny case was ruled a suicide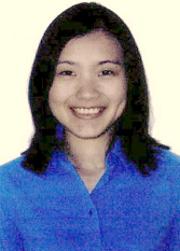 Stanford University graduate Mengyao "May" Zhou
was found dead in her car in January.
A new autopsy report sheds new light
on the circumstances that may have led to her death.
By James Lanaras
August 20, 2007
The father of a 23-year-old Stanford University student who was found dead in the trunk of her car in January still insists his daughter was killed and he said last week an autopsy showed she died of blunt force trauma.
Yitong Zhou said Thursday on his daughter's Web site that a second autopsy on Mengyao "May" Zhou was performed May 10 by a pathologist with 40 years experience.
Zhou said the autopsy disclosed multiple sites of trauma, including the head and extremities, on his daughter's body. He said Santa Rosa police declined twice to go to San Diego to view the forensic evidence.
Zhou also offered to exchange the second autopsy results for the results of the autopsy conducted in Sonoma County. He said police declined that offer.
Santa Rosa police said the Sonoma County autopsy found no visible outward signs of trauma and no indications of foul play. Police also said they found items in the trunk of Zhou's 2006 Toyota that indicated she may have committed suicide. They did not elaborate on that statement on Jan. 25 when Zhou's body was found in a parking lot of Santa Rosa Junior College.
In February, Sonoma County coroner's Sgt. Mitch Mana said toxicology tests revealed the presence of diphenhydramine, a prime ingredient in the antihistamine Benadryl, a sleep aid available without a prescription.
Mana said the level of the drug found in Zhou's body was "potentially toxic."
The autopsy also found no acidic, neutral or basic drugs or ethyl alcohol in her system.
On Friday, Santa Rosa police Sgt. Sgt. Paul Henry said the investigation of Zhou's death is nearing completion and leads have clarified some of the issues in the case.
In an e-mail this morning, Henry again said the case is under investigation and police would not release any specific facts. He also said he does not believe he ever said the case was ruled a suicide.
Henry said on Friday that police were not invited to participate in the second autopsy in San Diego and that police have been denied copies and photographs of that autopsy.
Zhou declined to speak to a police investigator and referred all questions to his attorney on Thursday, Henry said. Zhou's attorney Gordon Meyer then told police he sent their request to Zhou and he (Meyer) had not heard back from him, Henry said.
"Any information made public by the Zhou family about this secondary examination cannot be verified by the Santa Rosa Police Department," Henry said.
"The Santa Rosa Police Department remains committed to conducting a thorough investigation into this matter and would therefore examine any information or evidence in this case to further our effort to find the truth," Henry said Friday.
In a telephone conversation Zhou said his daughter's body is in storage under refrigeration.
He said police "don't want to tell the whole story."
Copyright © 2007 by Bay City News, Inc. -- Republication, Rebroadcast or any other Reuse without the express written consent of Bay City News, Inc. is prohibited.
####