Open House draws interest
of Bill Graham Auditorium private operators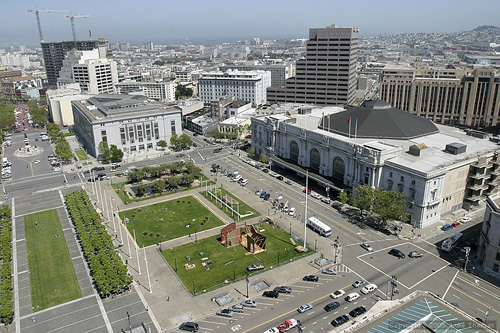 City Hall dome view of Bill Graham Civic Auditorum (right)
Photo(s) by Luke Thomas
March 17, 2006
San Francisco hosted an Open House of Bill Graham Civic Auditorium yesterday for those private parties interested in operating the lucrative concert and convention facility.
Prospective leasers toured the 7,000 seat Beaux Arts Civic Center building which made its 1915 debut during the Panama Pacific Exposition.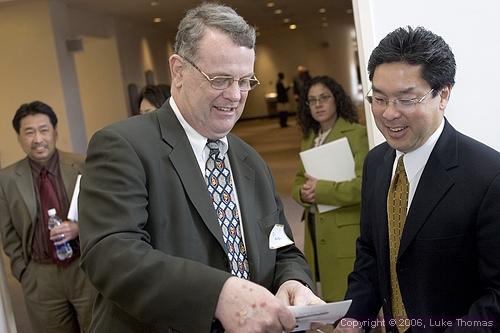 Bill Hogan, USF Director of Athletics, reviews floor plans
with Mr. John Noguchi, Director Convention Facilities Department
Lease benefit to the City includes minimum annual rent of $500,000 for up to 30 years, structure interior rehabilitation, and negotiated revenue sharing.
Interested organizations included Another Planet Entertainment, Anschutz Entertainment Group (AEG), Bill Graham Presents, Global Spectrum, Hammel, Green & Abrahamson, Inc. (HGA), Integrated Marketing Systems (IMS), Kate Keating Associates, Inc., McCall Associates, Nederlander, Paul Roberts and Partners Architects, Ripley Scoggin, LLP, SMG, and Southwest Basketball, LLC.
Most were familiar with the facility which has hosted concerts by Bette Midler, Madonna, The Rolling Stones, Patti LaBelle, Celine Dion, blues icons Janis Joplin and John Lee Hooker, and rock n' roll legends Carlos Santana, Jerry Garcia, Jefferson Airplane, Journey, and Metallica.
Prior to the tour, questions to Conventions Facilities Department director John Noguchi centered on time needed for regulatory approval to rehabilitate some interior rooms designated historic.
The main arena is the largest single space, standing forty feet high and with balcony access to the second and fourth floors.
The floor offers an unobstructed area of 31,000 square feet, measuring approximately 180 feet deep from north to south and 173 feet wide from east to west.
Freight access is through two doors at the rear of the Arena, allowing load-in directly from the Hayes Street portable dock into two freight elevators adjacent to each door. When set on the flat floor the Arena holds approximately 3,000 people theater style; 1,770 people classroom-style; and 1,520 people banquet-style.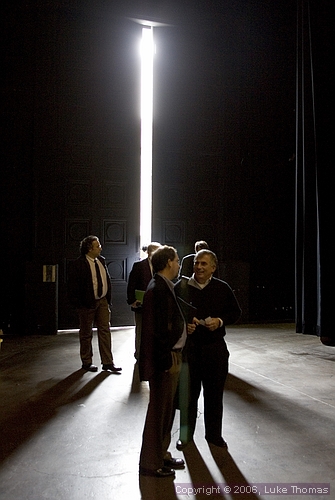 Freight access door on Hayes Street
The entire balcony seats 4,000 people and total Arena concert capacity is 7,000. Fully equipped dressing rooms are available at the rear of the Arena. Past events include blue-chip product launches, full theatrical evening events, national conventions, and gala dinners.
Polk and Larkin Halls flank the main Arena. Laid out as mirror images of each other, each offers 7,047 square feet of space and measures approximately 53 feet wide from east to west and 131 feet deep from north to south. Ceiling height is 20 feet and 6 inches and power is pulled from wall-connects throughout each hall.
Entrance to each hall is gained through three sets of double doors located just off the main lobby in the side corridors. A small meeting room measuring 24 by 30 feet is located next to each hall.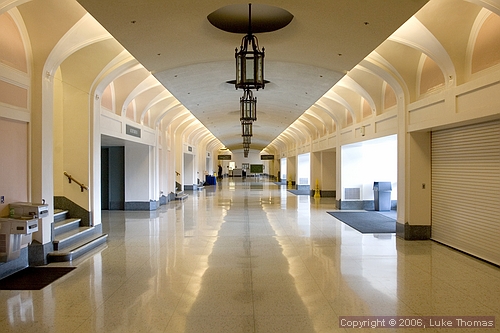 Thirty-six meeting rooms offering 22,000 square feet of meeting space are available on the third and fourth floors.
Ceiling height in all meeting rooms is 11 feet and six inches and all rooms are fully carpeted. Size of rooms varies from 5,356 square feet on the east end of the fourth floor (Rooms 414-416 combined) to a cluster of five 1,000 square foot rooms on the third and fourth floors each.
Two banks of elevators service each floor, with separate access for catering and freight equipment transport at two banks of elevators at the rear of each floor.
The Building was seismically retrofitted in 1995 at a cost of approximately $25,990,175.
May 5 is the deadline for operator proposals with City review panel selection recommendations scheduled June 30.
For more information contact:
Mr. John Noguchi, Director
Convention Facilities Department
Bill Graham Civic Auditorium
99 Grove Street, Room 204
San Francisco, CA 94102
(415) 974-4027/ 978-5913 (FAX)
email: John.Noguchi@sfgov.org

####