TING LEAD OVER SANDOVAL GROWS
Handgun Ban challenged in court
Attack on unions solidified labor
Newsom grows coattails
District 6 the hot 2006 race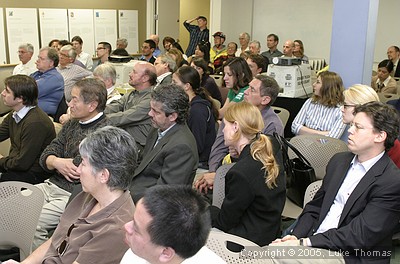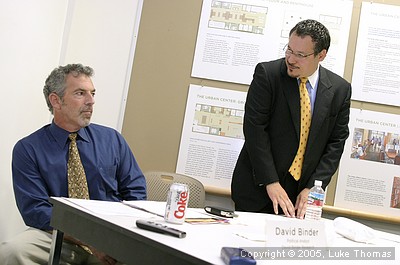 David Binder and SPUR's Emilio Cruz
Photo(s) by Luke Thomas
November 10, 2005
Assessor Phil Ting increased his lead over challenger Gerardo Sandoval by 2078 votes Wednesday, in a post-election day which saw legal challenge to a voter approved city Handgun Ban, and analysis of electorate mood.
Elections Department Director John Arntz predicted complete count of San Francisco ballots could take three weeks.
In related news:
- Seven San Franciscans joined the National Rifle Association in asking the California Court of Appeal to invalidate the Prop H Handgun Ban.
- Pollster David Binder reported the governor's early attacks on unions united diversity of the labor movement, and Binder credited union mobilization for defeat of Schwarzenegger ballot measures. Binder suggested San Francisco District 6 will be the hot supervisor race next November, and foretold Mayor Newsom could win a California primary race for governor but doubted Newsom would prevail in the general election if the mayor chose to run as a first-term mayor.

- A Newsom administration senior staff member reported the mayor's endorsed candidates and propositions won this year because Newsom limited his number of endorsements while expanding his efforts on behalf of those campaigns. In the 2004 election, Newsom endorsed a large field of candidates and propositions which were defeated.
LEGAL CHALLENGE TO HANDGUN BAN
The ordinance passed Tuesday by San Francisco voters held its lead at 57.92% in ballot tally released yesterday. It would become law on January 1, with handgun owners having until April 1 to surrender handguns to authorities.
On Wednesday, local opponents to Prop H asked the state Court of Appeal located in San Francisco to block the ordinance from taking effect, claiming state authority to regulate handgun use supersedes municipal authority.
They argued the ordinance would harm San Francisco handgun owners and merchants.
According to the lawsuit, owners would be prevented from selling private property and subject owners to having private property confiscated; merchant handgun inventories could not be sold, inventories could be confiscated and merchants could lose their business license; off-duty police would be denied their right under state law to carry handguns; and taxpayers would be harmed by city legal expense in enacting, enforcing, and defending the ordinance.
Filed on their behalf by the National Rifle Association, plaintiffs included Mexican American Political Association state board member Paula Fiscal, a businesswoman who keeps a handgun at her office; Larry Barsetti, president of the San Francisco Retired Police Officers Association; Rebecca Kidder, a native San Franciscan who keeps a handgun at her home; Dana Drenkowski, a U.S. Army reservist on duty in Iraq who stores his extensive collection of handguns in San Francisco; Retiree John Candido, who served in the San Francisco Police Department and as a San Francisco Deputy Sheriff; Alan Bayard, who works as a private security company trainer; and Andrew Sirkis, a businessman and property owner.
POLLSTER DAVID BINDER ANALYSIS
Despite defeat of a Republican governor's agenda, voter trends do not favor Democrats as state Democratic Party registration continues to drop while decline-to-state (DTS) party affiliation registration increases, Binder said in his traditional post-election analysis held at SPUR offices.
In San Francisco, DTS voters are second only to Democrats with DTS registration dwarfing other party affiliations.
Democrats now need to forge coalitions with non-Democrats to prevail over Republicans, Binder noted.
Voter turnout, both locally and statewide, was higher than expected due to union mobilization efforts, he continued.
And voting by mail now requires campaigns to begin earlier, Binder added.
Elections Department Director John Arntz has predicted absentee ballots may account for 45% of the total San Francisco vote in this election. State voters also are voting more often by absentee ballot, Binder stated, requiring campaigns to begin earlier as many voters "vote in October rather than November."
Schwarzenegger actually began campaigning for his ballot measures with the governor's State of the State address in January, Binder pointed out.
The governor attacked "big government unions" through statewide television ads early in the year, thus prompting unions to counter-mobilize early in the campaign.
"All of a sudden all of the diversity of labor now became united," said Binder.
Those ads continued to hit unions hard until the last week of the campaign, thereby keeping union resolve high. The ads changed dramatically last week as Schwarzenegger said he had learned (from mistakes) during his tenure, that his heart "was still in it," preferring his ballot measures succeed to improve government for ordinary Californians. All Schwarzenegger backed state propositions lost.
In the San Francisco Assessor race, Gerardo Sandoval would need to capture 77% of votes which initially went to Ron Chun. "Which is very, very unlikely considering Chinese voting patterns indicate Chinese will vote for Ting not Sandoval," suggested Binder.
"I can hardly see any scenario in which Sandoval could pull this out."
The San Francisco Treasurer campaign "was never much of a contest with Cisneros winning easily on the first ballot," Binder added.
Moderate-progressive divisions have diminished, Binder said, crediting Mayor Newsom "with some kind of role in easing the polarization that existed in his election against Gonzalez in 2003," but those divisions still exist and voters will want a credible debate in the next mayoral campaign.
Binder asked the audience to name credible opponents to Newsom in the 2007 mayor's race. Names mentioned were Mark Leno, Tony Hall, Ross Mirkarimi, and Aaron Peskin.
Binder noted the mayor's current 86% approval rating is evenly split between strong approval and moderate approval. He said Newsom's high ratings do not translate statewide, and that while Newsom could win a primary race for governor at this time, winning the general election for governor would be improbable if Newsom chose to run as a first-term mayor
The pollster assessed standing of supervisor candidates in the November 2006 election. Districts 2, 4, 6, 8, and 10 are up for election.
"In 2006 what we should look at primarily is whether Chris Daly is vulnerable in the District 6 election. That clearly is going to be the hot one.
"He got 51% of the first vote four years ago, and now we're going to have instant runoff and if he gets under 50% that could be a contest there.
"I think Bevan (District 8) is probably pretty safe, but that was very heated last time with Eileen Hansen and there may be some progressive people that are trying to edge him out…he has a pretty good rating and he's also been kind of Newsomish in the sense that he's tried to keep various political persuasions happy.
"I think Sophie (District 10)…there are all kinds of dynamics going on there that may or may not make that race an issue.
"Michela (District 2)…I've heard is pretty secure.
"District 4 is not really a progressive district, and I can't imagine that that's going to be any site of war.
"If there's going to be any kind of fight in 2006 I expect it to be primarily in District 6, and possibly in District 8."
NEWSOM CANDIDATES AND PROPOSITIONS
In 2004, Newsom endorsed candidates Lillian Sing, Heather Hiles, Nick Waugh, Coach Kane, Andrew Sullivan, Sean Elsbernd, Michela Alioto-Pier, and Props A, J, K, and O.
Only Elsbernd and Alioto-Pier won, and Newsom's endorsed propositions lost.
In this election, Newsom put more effort into campaigning for his preferred candidates, against city Proposition D, and against Schwarzenegger ballot measures.
The mayor held five press conferences against the governor's propositions, and Newsom's message was featured in 250,000 mailers sent to Bay Area homes.
In San Francisco, some 450,000 mailers carried Newsom's support for Assessor Phil Ting, Treasurer Jose Cisneros, and against city Prop D that would have shared mayoral MUNI appointment power with the Board of Supervisors.
Additionally, Newsom's voice was heard on 100,000 automated telephone campaign calls, and some 100 Newsom supporters volunteered on election day.
The mayor made 23 appearances and merchant walks in support of candidates, and gave 18 media interviews.
Newsom opposed Prop D in a radio ad that aired 125 times, and 50,000 San Francisco campaign emails quoted the mayor.
One supervisor named as a credible potential candidate against Newsom credited the mayor with working hard for campaign successes.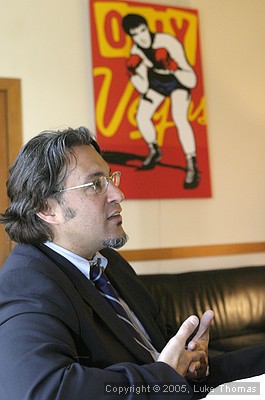 Disctrict 5 Supervisor Ross Mirkarimi
Indeed, progressive Supervisor Mirkarimi described this election as marked by "no surprises."
The Assessor and Treasurer races provide "no surprises - I'm not surprised at all," Mirkarimi told the Sentinel.
The District 5 supervisor predicted Sandoval would not overcome Ting in the Assessor race.
"Oh, no. No, I think you're looking at the final results. I mean the numbers will change as provisionals as absentees are counted but we're looking at pretty much the final results.
Newsom's growth of coattails in this election did not surprise Mirkarimi.
"I'm not surprised by that. He's experiencing a sustained amount of popularity, and I think his picks within the race had run vigorous campaigns. You do the work, you get the results.
"Quite frankly the progressive community has to do due diligence. If we are going to rally around something, then we are going to have to fashion together the kinds of campaigns that deliver into the winner's circle…but you can't just let things sit for themselves particularly if there's any hint or tinge of controversy to these measures.
The Sentinel asked whom Mirkarimi considers credible challengers to Newsom.
"I haven't give it any thought (laughter).
"You know, I'm not even thinking about that.
"And I'm sure they're not either (laughter).
####