THE MUSIC MAN
With Seán Martinfield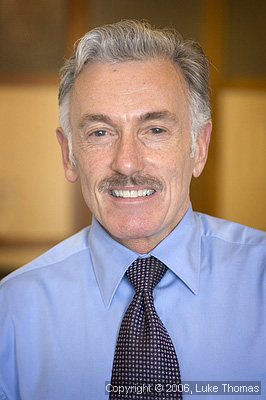 Seán Martinfield
GEM OF THE OCEAN, Black History Flotsam
at ACT
February 20, 2006
The current ACT production of August Wilson's GEM OF THE OCEAN, now at the Geary Theatre until March 12th, may be the best realized version this work will ever enjoy. Director Ruben Santiago-Hudson has provided a loving tribute to its author (and certainly to both friend and mentor) the late and much lauded playwright August Wilson. With an exceptionally capable cast, he has done everything in his power to tie all of the play's wandering threads around the neatest package possible. In this month devoted to observing Black History, GEM OF THE OCEAN is a wonderful gift to the Theatre and, in its own way, a re-gifting to its author. Some will sense Wilson's spirit wandering in the wings, smiling perhaps at a directive given to Santiago-Hudson during its Broadway run. Responding to complaints concerning the look and atmosphere of the pivotal soul-cleansing scene of Act II, "The City of Bones", Wilson said to him - "OK, fix it." Too bad he didn't tell him to re-write it.
Taking the script, it is opulent and multi-layered. But, its overall structure is that of a wet clay pot fired in the kiln too-soon. Now permanently set, the play's irregularities result in an uneven flow and no amount of gloss can disguise the telltale cracking in its hull. Starting in the playbill's cordial welcome from ACT's Artistic Director Carey Perloff, to the buoying testimony of director Santiago-Hudson, and a heavy-anchored essay by the author himself - we are told (or warned) that we are about to embark upon an adventure heretofore unimagined. As the character "Aunt Ester" puts it - one we didn't know we'd signed-on for. Maybe. If the promise refers to what alleges to be the healing and redemptive mind-journey or Rite of Passage to "The City of Bones", then definitely. After all, this is what Santiago-Hudson was charged to fix. Unfortunately, it turned out to be a disjointed and bumpy night.
An entire historical Log and ever-surfacing cultural lexicon is force-fed and sandwiched between two parallel ports, one being the seeming here and now of 1904, the other a supernatural plateau floating above fraught with biblical citings, inter-continental gnosticism, collective memory, bags of petrifying dog poop, magic coins and a shot glass of aged bamboozlement. Add to that the Dramatis Personae of easily recognized icons coaxed from the treasure vaults of Classic Hollywood and early Television. Once deemed as stereotypes but (as some might argue with the timely issuing of a stamp honoring first Academy Award winning Black actress Hattie McDaniel) refined and uplifted to a glowing pantheon of Archetypes. The problem is - the plot lists too often to the edge of the hard-to-hold-onto as lifelines of theatrical device and opportunity, i.e., outwitting the enemy, float on by. Some future screenplay writer will figure it out.
Wilson reminds us that Theatre can be the "powerful conveyer of human values". Unlike other arenas of communication, Theatre can harbor any number of peoples and ideas - "sometimes across wide social barriers," he says, "those common concerns that make possible genuine cultural fusion." Yes, absolutely. However, after the mist settles, Wilson will be shown to have pandered to Trend by resorting to faddish infusion. This rough-cut "Gem" bloats with too many In-jections and too many In-fusions and we are too often ejected from the journey.
Who should definitely see this mounting of GEM OF THE OCEAN? Every Black actor of every age everywhere. The Wilson canon is going to be around for a long time - you need to work it. These are the roles exclusively available to you. They are rich with historical precedent and are assigned to those riding the top wave, the crème de la crème. The current troupe cruising along at ACT includes Theatre Arts graduates from Yale, Harvard, UCLA, De Paul and Carnegie Mellon. Wilson's language is a fine and lyrical American English, exquisitely sweet and savory, wafting in the mouth, warming the senses - demanding a Master Interpreter. For each character there is a monologue worthy of any audition. One of them could be your song of songs and the most fetching gem in your repertoire.
Click here for Seán Martinfield archive.
####