Blue Angels soar up in your air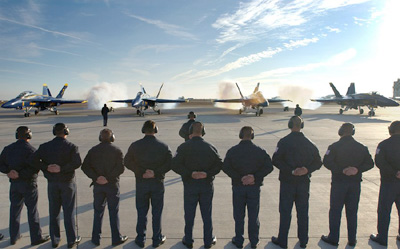 Photo courtesy www.blueangels.navy.mil
October 6, 2005
The Blue Angels will begin their survey flights over San Francisco today in preparation for Fleet Week this weekend.
They will fly today from 12:00 p.m. to 2:00 p.m., and again from 3:00 p.m. to 4:00 p.m.
On Friday, Saturday, and Sunday, they will fly from 3:30 p.m. to 4:30 p.m.
This year, Fleet Week has added the Red Bull Air Race World Series to their exciting line up. The Red Bull Air Race pilots will be racing through a course of air-filled pylons set up on the bay in front of Marina Green and Aquatic Park.
The Red Bull Air Race Schedule is as follows:
TODAY
10:00 a.m. to 12:00 p.m. (Practice)
2:00 p.m. to 3:00 p.m. (Practice)
4:00 p.m. to 5:00 p.m. (Practice)
FRIDAY
1:10 p.m. to 2:20 p.m. (Qualifying Rounds 1 and 2)
SATURDAY
12:30 P.M. TO 2:10 P.M. (Finals)
SUNDAY
1:10 p.m. to 2:15 P.M. (Exhibition)
The Fleet Week Air Show, one of the largest air shows in the nation, hosts the Blue Angels when they take to the skies above San Francisco as Fleet Week makes its 25th appearance, October 6 through October 11, 2004. This year's event is expected to attract more than 1,000,000 spectators along the San Francisco waterfront.
Inaugurated in 1981, this popular event brings together U.S. Navy, Marines Corps and Coast Guard forces for a weeklong celebration on the water and in the skies -- highlighted by a two-day air show over the weekend. Fleet Week welcomes The Red Bull Air Race World Series, for the first time in San Francisco.
This original air racing series pits ten of the world's best aerobatic pilots against the clock, and ultimately one another, as they navigate a timed slalom course of pylon obstacles and execute low-level, high-risk aerobatics. Each pilot flies a lightweight aerobatic plane heavy on horsepower that cuts the air at over 300 mph while pulling up to 11-positive and 8-negative G-forces.
At each race venue the pilots face different track, climate and altitude conditions that make for an unpredictable, yet exciting race. This finale of the seven-country 2005 series is especially exciting as the World Champion will be crowned. American Mike Mangold leads the series by two points, and Kirby Chambliss, fellow American, and five-time U.S. Aerobatic Champion, is in third going into the season final.
The air show also features the USAF F-16 Fighting Falcon, Heritage Flight (F-16 with F-86 Sabre), the Patriots L-39 jets, Army Green Beret parachute team, the Red Bull Air Force skydivers, Coast Guard Helicopter Search and Rescue demo, and Oracle aerobatic pilot Sean D. Tucker.
San Francisco Fleet Week 2005 will kick off with a flotilla of naval vessels in the annual Parade of Ships at 11:30 AM on Saturday October 8th, and a variety of family-oriented exhibits, attractions and special events staged along the waterfront.
For more information on Fleet Week visit fleetweek.us. For the Red Bull Air Race visit redbullairrace.com.
####