SAN FRANCISCO LEGISLATORS APPEAL TO SCHWARZENEGGER SENSE OF HISTORY
The Marriage Equality Act
Courage and Leadership or
Pantheon of Shame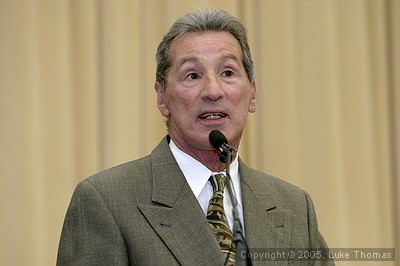 Supervisor Tom Ammiano, author of San Francisco Board of Supervisors resolution urging Governor Schwarzenegger to sign the Marriage Equality Act, introduces legislators backing the measure.
Photo(s) by Luke Thomas
Wednesday, September 14, 2005
Legislators backing the Marriage Equality Act yesterday conjured lasting imprimatur of greatness before Governor Schwarzenegger, should his signature yet legalize marriage between couples regardless of sex.
Led by Supervisor Tom Ammiano, the group fanned that flickering possibility, although some did so through doubt and occasional sarcasm.
Anna Damiani, spokeswoman for legislation author Assemblyman Mark Leno, encouraged recognition "there is never an appropriate time to dismiss equality for any people."
"The governor was elected to represent all the people of California, and we urge him to do just that, to not give up on our community, to not pass this aside and make us second class citizens.
"We need to continue to push the governor, and it is actions such as this by the Board of Supervisors that will help us get there," Damiani stated.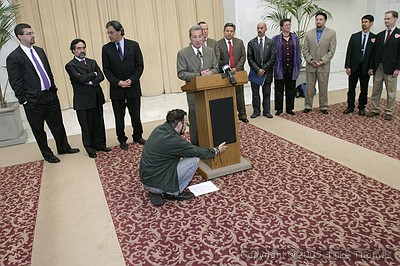 San Francisco Supervisors Chris Daly, Aaron Peskin, Ross Mirkarimi, Bevan Dufty, Gerardo Sandoval, and Fiona Ma joined the refrain. City Treasurer Jose Cisneros, and Congresswoman Barbara Lee representative Miguel Bustos lent support to Act approval.
Dufty, co-sponsor of Ammiano resolution urging governor approval, appealed to Schwarzenegger's conscience.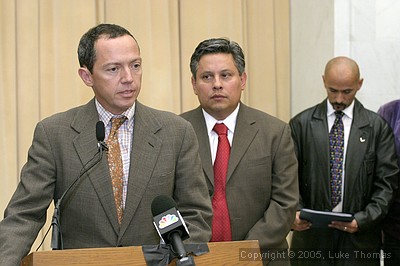 "We're going to continue to appeal to his…having a conscience, and the sense that when he presented himself to the voters of California he said he was going to be that type of leader," said Dufty.
"I think that that's what you see here in San Francisco. You see the elected family here who have stood one hundred percent in support of marriage equality.
"I think that you saw what was done here with the leadership of Mayor Newsom, thousands of people coming forward, getting married, being validated, their relationships, their parents all being here.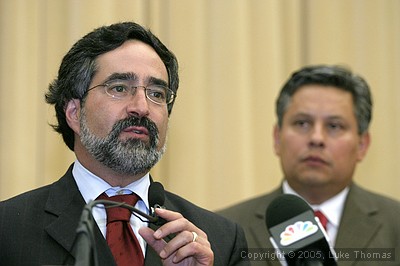 Schwarzenegger "stands before a phenomenal opportunity," reported Board of Supervisors Aaron Peskin.
"I stand with Supervisors Tom Ammiano and Bevan Dufty, and I think with the entire Board, in saying, 'Mr. Governor, you have a phenomenal opportunity to show real leadership,' " Peskin began.
"Don't squander that opportunity.
"We like to say, 'As goes California, so goes the nation.' Here in San Francisco we have I think a more prescient statement, which goes, 'As goes San Francisco, so goes California.'
"It is an inevitability. Step up to the plate. Don't do what politicians do - say one thing and do another - this is an issue of wrong and right," maintained Peskin.
The District 11 supervisor invoked memory of historic civil rights leaders.
"I want to invoke the name of Martin Luther King, the name of Cesar Chavez, the name or Rosa Parks," Supervisor Gerardo Sandoval stated.
"I want to welcome the governor into the pantheon of shame, into the pantheon of Bull Connor, into the pantheon of all those who opposed civil rights throughout history.
"And I want to welcome Mark Leno into the pantheon of the hall of fame. He takes his place along with those many others who struggled for the civil rights of Americans…
"I hope the governor will choose the right pantheon to jump into. I hope he will do the right thing."
Ammiano, considered a leading LGBT elder statesman, drew larger conclusion Schwarzenegger "has lost his way."
"Apparently he is having a great deal of trouble with those who contribute to California, and its greatness - firemen, teachers, nurses, queer people…
"And he should not be playing this tango of death with the Bush administration," continued Ammiano.
"He said he was going to be re-elected to speak for himself. Well, I haven't seen that. Maybe an amoeba has one brain cell. I expect more from a governor of California.
"So I say dump him, and I say dump him as soon as possible, and really do some ass kicking around those ballot measures…which a majority of Californians think is a waste of time.
"You can't tell me some of that money that we're going to use for that dumb special election couldn't have gone to the victims of Katrina.
"So there's always a way. There's always a better way. Governor Schwarzenegger has lost his way," Ammiano concluded.
Mirkarimi described veto in a way he said Schwarzenegger would understand.
"In the very simplest terms that the governor will understand, 'Governor bad. Governor very bad,' " Mirkarimi conveyed.
"But I doubt the governor will demonstrate or do anything good.
"I think it's reprehensible that he would actually dismiss the prevailing opinion of Californians who absolutely want to see same sex marriage, the new hallmark of civil liberties."
"Frankly…I see Governor as a one-term Governor.
"It's not only just this issue, but it's the compound of misery that Schwarzenegger is deflecting upon this state, with this special election, with his propositions - and frankly the cherry on the icing is the impending dismissal of same sex marriage.
"Governor very bad."
District 6 Supervisor Chris Daly recalled success of same sex marriage advancement was borne on the shoulders of community organizations.
"Clearly that work has been really on the shoulders of lots and lots of people, of organizations - I'm thinking Marriage Equality California, of others who have been struggling in the trenches daily for years and years and years for basic civil rights, for human dignity, for social justice in this city, in this state, and in this country," lauded Daly.
"To them, thank you very much."
Supervisor Fiona Ma recounted Schwarzenegger performance as disappointing.
"The governor has been a continuing disappointment," Ma observed.
"He's attacking our nurses, he's attacking our teachers, he's attacking our firefighters, and now he's attacking the LGBT community.
"The governor has the ability to do the right thing…we implore him to be a leader and do the right thing."
Treasurer Jose Cisneros portrayed the governor as blocking the doorway to justice
"One man chooses to stand in the way of justice. Shame. Governor Schwarzenegger, don't block the doorway of wedding couples, don't stand in the doorway of our country clerks - do the right thing.
The governor has eleven days remaining for decision deadline.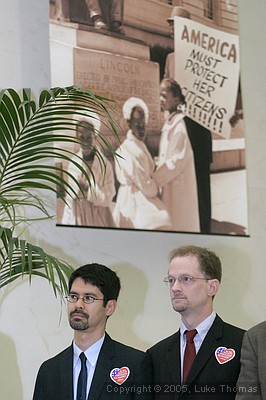 ####