Good times budget brings more cops,
cleaner streets, and increased public health service
Mayor delivers 2006-07 City budget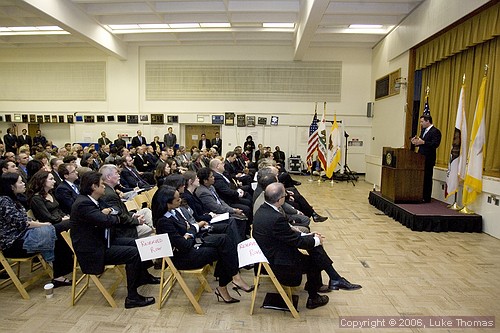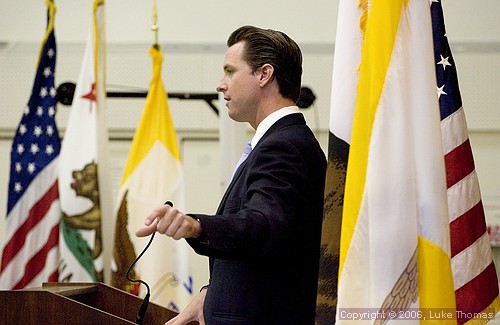 Mayor Newsom delivers 89 minute City budget summary to officials
and community leaders gathered in San Francisco's Police Academy
Photo(s) by Luke Thomas
May 31, 2006, 2:00 p.m.
San Franciscans will see 250 newly hired police officers, no service cuts to public health, and more street cleaners at work under a $5.73 billion budget unveiled today by Mayor Newsom.
A recovering economy permitted the $390 million budget increase over the current year, Newsom told community leaders gathered at the San Francisco Police Academy.
The site was selected to emphasize the importance the Newsom administration places on public safety, his office reported.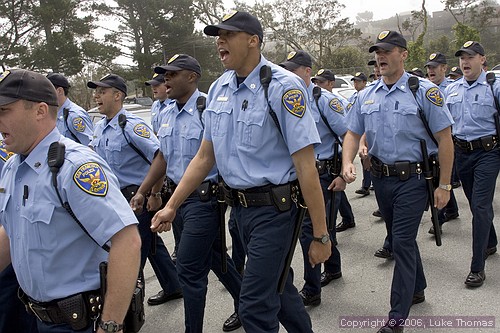 Newest police cadets undergo training march as the mayor reports five classes
in the coming year will graduate with a total of 250 police officers to San Francisco streets.
"This budget provides for the needs of San Franciscans for healthcare, safer neighborhoods and cleaner streets," said Newsom.
The audience included members of the Board of Supervisors, other elected officials, commissioners, the San Francisco Police Cadet Class 210, and alert residents.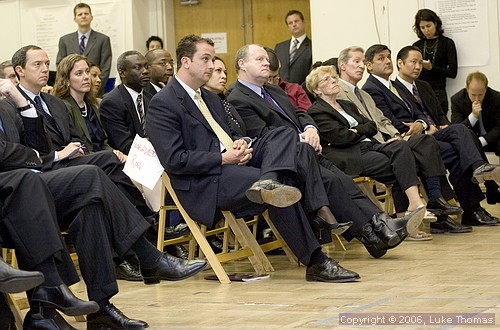 In addition to bolstered police services, the proposed budget will add more public health workers who check the wellbeing of seniors and the disabled.
Funding for new health care workers is provided in the Department of Public Health (DPH) budget hike to $1.2 billion.
DPH receives the single largest budget allocation with costs steadily increasing do to an aging population and labor costs.
Newsom pledged no DPH service cuts while insisting "we must get our arms around" DPH spiking costs.
Even so, the mayor praised labor unions for sharing the pain in past budget reductions.
Health care workers gave back more than $300 million in contracted City pension contributions over the last three years, Newsom said in thanking unions.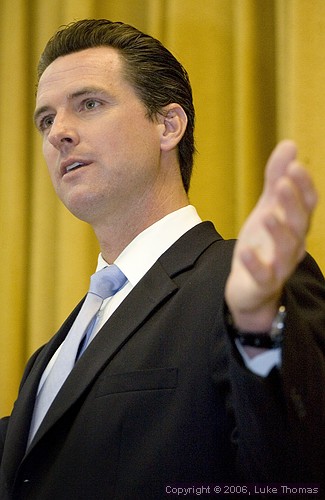 The budge provides for a Community Living Trust to fund long term care costs for patients unable to get a bed in the proposed 1200-bed long term care Laguna Honda facility.
And a 60-bed Respite Center will be built for frail patients released from hospital care not in need of long term care hospitalization, Newsom stated.
A one-time use of $180 million in one-time City revenues will be used for street repairs, purchase of 12 new street cleaners assigned to 100 blocks of heavily traveled streets, and greening of the City with 5,000 new trees.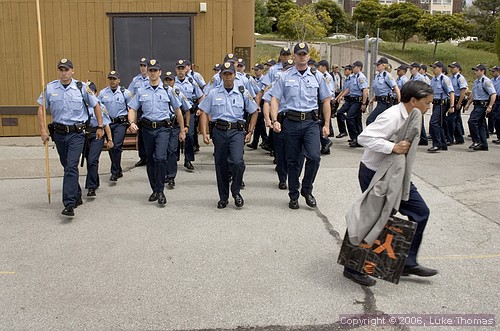 Frank Chiu, ubiquitous clarion of 12 Galaxies threat to this planet's way of life,
darts across young centurion march on earthbound troublemakers.
####