Committee recommends stripping mayor of city fee waiver authority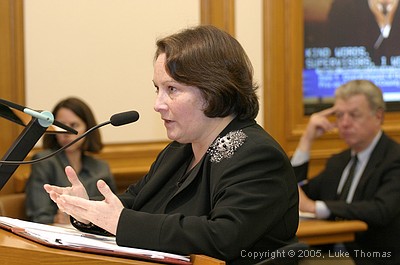 Photo(s) by Luke Thomas
Martha Cohen, senior staffer to former Mayor Willie Brown,
cites bureaucratic bungling as cause for permit issuance to event organizer despite non-payment of previous year fees.
November 22, 2005
The Mayor's Office will be stripped of its power to waive city service fees for San Francisco events under legislation unanimously recommended yesterday by the Government Audit and Oversight Committee.
In addition, event organizers more than 90 days late in paying city fees will be ineligible for future event permits, according to the proposed ordinance authored by San Francisco Board of Supervisors President Aaron Peskin.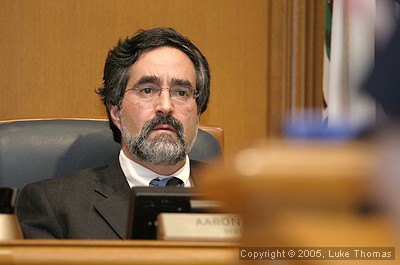 Committee Chair Aaron Peskin
Committee Members Sean Elsbernd and Chris Daly joined Peskin in recommending the measure to the full Board of Supervisors.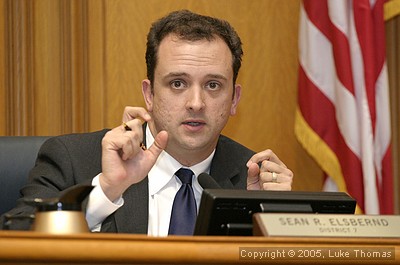 Committee Member Sean Elsbernd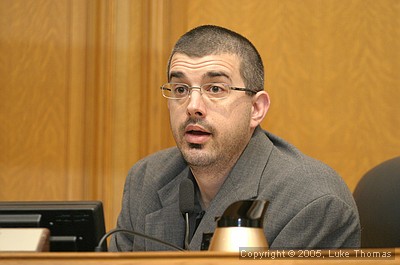 Committee Member Chris Daly
Peskin drafted the ordinance following revelation last week that organizers for the Grand Prix 2005 cyclist race were granted a permit for that event despite not paying city fees for Grand Prix 2004.
Daly and Peskin said granting the 2005 permit thereby violated city law.
Organizers contend they did not pay the initial invoice because it was based on full city service costs, instead of reduced fees then being considered by the Mayor's Office. The city sent an invoice reflecting fee waiver to organizers only this month.
The Mayor's Office has sent a demand for payment letter to organizers, legally enabling the city to seek full service costs rather than reduced costs if the 2004 bill is not paid in ten days.
"Bureaucratic bungling" allowed both the 2005 permit to be issued, and payment collection not enforced, according to Noelle Simmons of the City Controller's Office and Martha Cohen who served as a senior staff member to former Mayor Willie Brown.
####