Newsom declares City budget
a non-political document
Budget Committee Chair Daly praised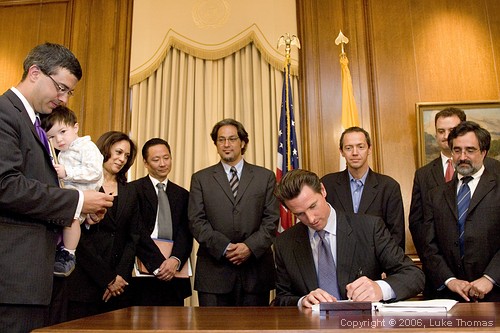 Mayor Gavin Newsom makes it official - the City's $5.8 billion budget for the coming year is now approved. First pen used in the signing went to Supervisor Chris Daly, who chaired the Budget and Finance Committee of the San Francisco Board of Supervisors, shown with 22-month-old son Jack Henry Daly. Board President Aaron Peskin, right, who also served on the Budget and Finance Committee, received the second pen. Budget supplicants and shapers gathered in background including from left San Francisco District Attorney Kamala Harris, San Francisco Public Defender Jeff Adachi; and members of the Finance and Budget Committee, Supervisors Ross Mirkarimi, Bevan Dufty, and Sean Elsbernd.
Photo(s) by Luke Thomas
July 29, 2006
Mayor Newsom signed into law the 2006-2007 $5.8 billion City budget yesterday calling it a non-political document shaped by cooperation.
Those who shaped it most, members of the Finance and Budget Committee, echoed that sentiment at the 11:45 a.m. Mayor's Office signing.
Both the mayor and committee members uniformly praised the leadership of Finance and Budget Committee Chair Chris Daly.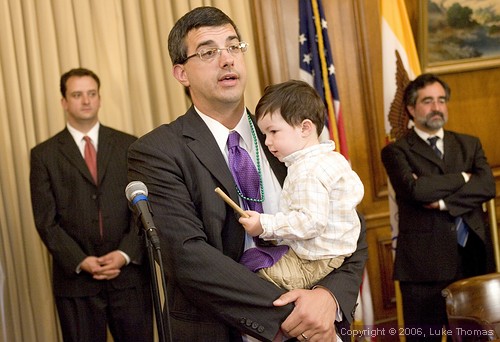 District 6 Supervisor Chris Daly lauds this year's change in committee membership from three to five members as a structural improvement for the budget process.
Newsom said there is no more important City effort than development of the annual budget.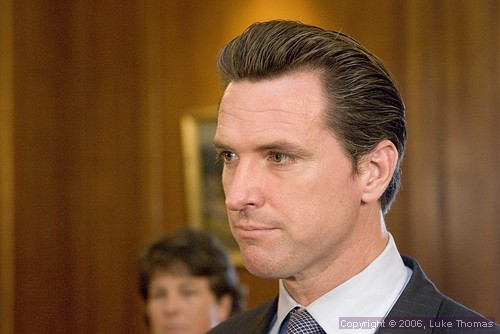 Mayor Gavin Newsom
"The budget is not something is or should be considered a static document," observed Newsom.
"It is a living, breathing document that represents in so many significant ways the values of the City."
The mayor gave primary importance to developing the budget in a non-political way.
"We've always stated, in at least the last two-and-a-half years that I've had the privilege of being mayor, the importance of the budget in making sure that it is a non-political document as it relates to the politics of City Hall," Newsom continued.
"I think we all recognize that we have jobs and roles to play in City government but when it comes to the budgeting process we've got to put aside our differences and work across our differences in an apolitical way.
"And I think this year, as it was the case last year, represents the best of City government where people come together, people put aside their differences, people begin to work collaboratively - not just members of the Board but District Attorney Kamala Harris this year as well, so has Supervisor Mirkarimi, Supervisor Bevan Dufty and everyone else..."
Size of the budget represents an investment in San Franciscans, reported Newsom.
"It is a big budget, no doubt, but the investments are appropriate - historic investments in people, historic investments in capital in this budget as well as historic investments in setting aside resources for a rainy day..."
Peskin lost his swing vote status on the Finance and Budget Committee to Dufty, Peskin chuckled.
"I designed the committee so that I would be the swing vote," recalled the Board president.
"It didn't turn out that way. Supervisor Dufty was the swing vote. I decided that from the fiscally conservative side that when Supervisor onboard... when we were losing it on three to two votes (Peskin would become the swing vote).
"I think really that the kudos go to the chair of the committee Supervisor Chris Daly," Peskin noted.
Daly also invoked collaboration.
"This was really a collaborative process and I think moving to a two to five member committee was a significant structural reform in the right move for the Board of Supervisors.
"It was a great budget and... for years community groups have talked about a people's budget in San Francisco and I think that this year we're the closest that we've ever been to a people's budget."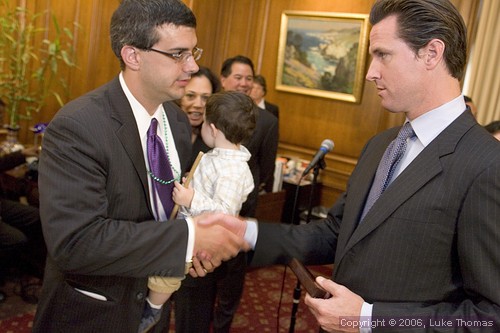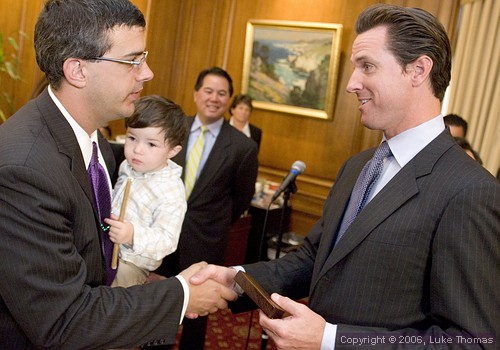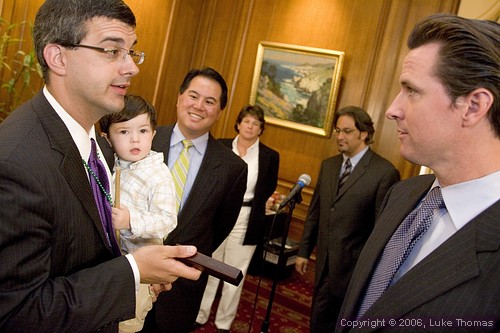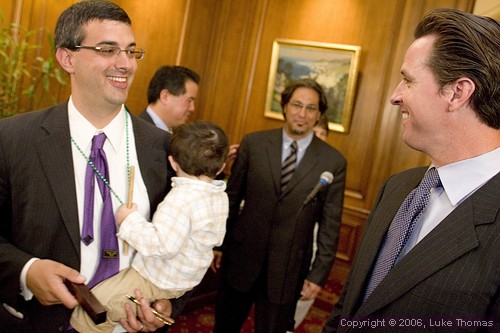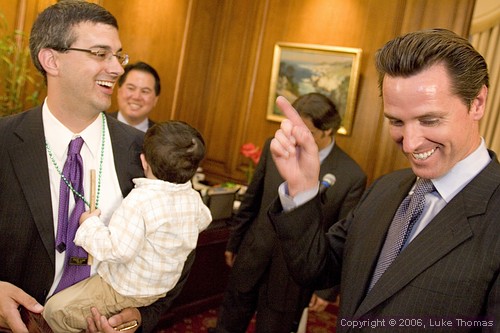 ####