University of California launches
California history web site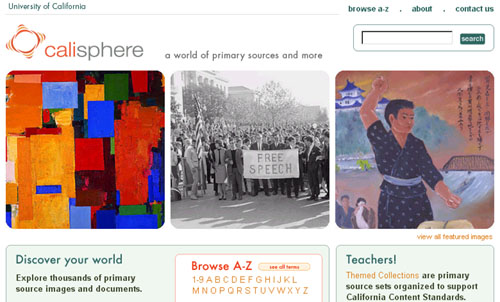 By Erica Holt, Bay City News Service
August 22, 2006
The University of California announced Monday it has launched an educational Web site that gives anyone free access to more than 150,000 digitized cultural and historical primary source materials about the state.
State Superintendent of Public Instruction Jack O'Connell reports that the scanned images come from UC libraries and cultural heritage organizations from across the state and while it targets teachers, it is open to the public.
The images include photographs, documents, newspapers, political cartoons, works of art, diaries, transcribed oral histories and advertising related to California history.
The Web site is a public service project of UC's Oakland-based California Digital Library. Visit the Web site at http://www.calisphere.universityofcalifornia.edu.
Copyright © 2006 by Bay City News, Inc. -- Republication, Rebroadcast or any other Reuse without the express written consent of Bay City News, Inc. is prohibited.
####