Caltrain to hold new bike depot kick-off event
in San Francisco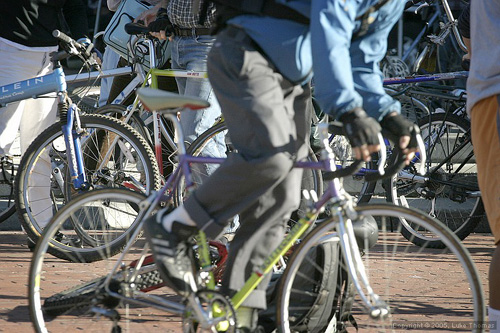 Cyclists will have access to a new 1600 square-foot bicycle parking facility
at Caltrain's San Francisco Station at Fourth and King streets.
Construction begins in March.
Photo(s) by Luke Thomas
Bay City News Service
February 26, 2006
SAN FRANCISCO (BCN) - With construction scheduled to begin in early March, Caltrain is holding a special event on Monday to mark the long-awaited creation of a new 1,600-square-foot bicycle parking facility.
Making it easier for Bay Area residents to ride their bikes to the train, the bike depot will be built at Caltrain's San Francisco Station at Fourth and King streets.
The bike depot will be able to house at least 100 bikes free of charge. As well, the depot operator, Warm Planet Bikes, will offer bike related services and repairs, Caltrain reported.
"We love our bike passengers, but we have limited bike space on our trains," Michelle Bouchard, Caltrain rail planning manager, said in a statement. "This new facility offers them a way to keep riding their bikes, and frees up more space for other bike riders who may need their bike at the other end of their journey."
On Monday at noon, Caltrain will hold a bike depot kick-off event at the San Francisco Station, located at 700 Fourth St.
Construction on the bike depot is scheduled to begin during the first week of March, Caltrain reported.
Copyright © 2006 by Bay City News, Inc. -- Republication, Rebroadcast or any other Reuse without the express written consent of Bay City News, Inc. is prohibited.
####