Caltrain looks to expand electrified
mass-transit service into downtown
San Francisco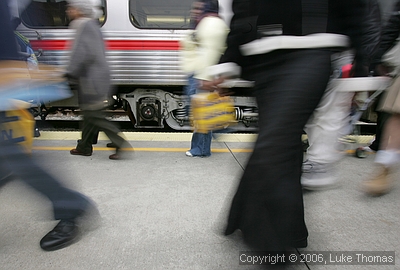 Photo(s) by Luke Thomas
Bay City News Service
May 12, 2006
SAN FRANCISCO (BCN) - San Francisco Mayor Gavin Newsom, along with several other city and transportation officials, asked for more state funding yesterday to help extend Caltrain services into the city's downtown area.
According to Caltrain spokesman Jonah Weinberg, Caltrain is looking to extend its services into San Francisco's downtown area. He said in order to do that, Caltrain must find funding for the electrification of its trains.
According to Weinberg, a train destined for downtown San Francisco would have to go underground, and putting a diesel train underground is not plausible because of the emissions produced by the train.
Weinberg said the electrification of the trains would cost an estimated $100 million. He said electric trains would be more efficient and create less pollution.
"The decisions we make on how we prioritize state transportation funding will have a huge impact on California's future," Newsom said in a statement. "We must look forward by investing in a truly effective system of mass transit, not backwards by repeating the mistakes of the past and building more highways that drive development into our precious green spaces."
Newsom also urged lawmakers to continue to back the state high-speed rail project, which will be over 700 miles long and will have some 30 potential destinations, connecting San Francisco to Los Angeles, city officials reported.
The high-speed rail project has an estimated $40 billion price tag.
"Countries all over the world have seen the wisdom of investing in high-speed rail as a major transit option particularly as fossil fuel-driven vehicles become less and less viable in the future," San Francisco Supervisor Jake McGoldrick said.

Copyright © 2006 by Bay City News, Inc. -- Republication, Rebroadcast or any other Reuse without the express written consent of Bay City News, Inc. is prohibited.
####