City cites sea change in approach
to housing the homeless

May 18, 2006
City officials said yesterday that results of Care Not Cash, the homelessness proposal Mayor Newsom rode to election, exceeded initial goals of the two-year old program.
Now known as Housing First, the program delivered 3,200 units of permanent supportive housing for single adults, reported Department of Human Services (DHS) director Trent Rohrer.
Rohrer made the remarks at official reopening of the Alder Hotel, once a Sixth Street eyesore grown nearly vacant from neglect.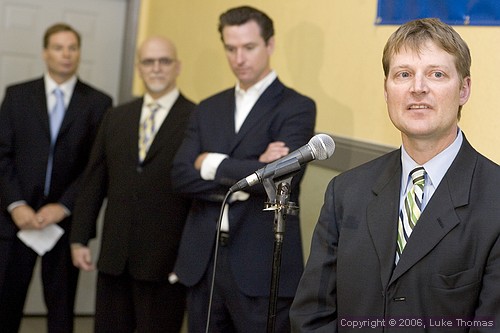 DHS director Trent Rohrer gives overview of Housing First with, seen from left, DHS staffers Darius Kayhan and Scott Walton with Mayor Gavin Newsom.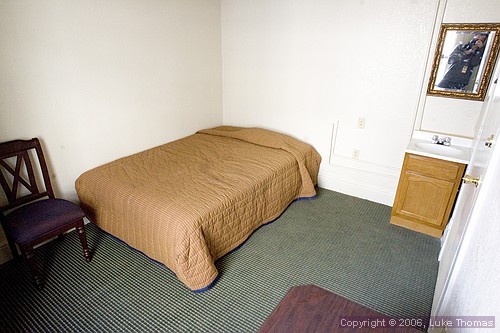 Since the implementation, the City has reported a 41 % decline in homeless individuals living on the streets.
Retention rates among the housing program participates stands at more than 95%, according to compiled statistics, and CAAP clients were reduced by more than 80%.
"We have over the last two and a half years turned the system for assisting those who are homeless on its head," said Trent Rhorer.
"We've said that we can house you first - that you don't have to be stabilized in shelter, you don't have to get a job first, you don't have to be clean and sober first - that we can house you first and then we'll be better equipped to help you deal with the issues that caused your homelessness.
"This is a big shift. We're moving away from a system of continuum of care to one that prioritizes housing first.
"We have over 2,300 units now. Public Health has over 900. That's 3,200 units of permanent supportive housing for single adults in our system.
"These units turn over. We have a great retention rate but we also have people that exit to better housing as they secure jobs, they secure federal housing."
Current waiting time to move from shelter to permanent supportive housing is from two to three months, reported the program's supportive housing manager.
"We find that we are serving people who choose to use shelter within two to three months of their using shelter for the most part," stated Scott Walton, supportive housing program manager of the Human Services Agency.
"We have clients who have been with us longer who are still homeless but they've had opportunity for housing and possibly refused it.
"We continue to go back to them and continue to encourage them to use housing."
Walton explained the difference between use of waiting lists and the Housing First model.
"We're not using a waiting list so much as a real-time referral system," continued Walton.
"Waiting lists sometimes slow down placement in housing where we go to the CAAP (County Assistance Program) workers who are seeing the clients who are homeless today and if there is an opening they can refer that client in.
"So it truly is a Housing First model. We also outreach at the shelters for those clients who have been using shelters.
"Everybody who is on county benefits will be offered housing.
"The power of housing is that it allows them to address their other personal needs, added Walton.
All housing provided through Housing First is supportive housing.
Supportive housing provides on-site counseling for enrollment in desired services as determined by residents themselves, Rohrer told the Sentinel, for all medical services, education, job training, access to professional wardrobe and job referral; as well rebuilding banking and credit history.
Resident participation in supportive counseling is not required so that tenants may chart their future with or without help as they wish, stressed Rohrer.
For some in shelters the two or three month wait for permanent housing becomes too long to hold hope.
"It is challenging," stated Newsom.
"I meet people all the time out on the streets that after two or three months they start giving up and just when they're about to get the housing they give up.
"It's human nature so not everybody has been serviced through this process.
"Care Not Cash hasn't been perfect. Everything we had hoped for has not come true but we're open to argument. We're always looking to tweak it, to make it better, and to augment it... with all of these other strategies.
New thinking is required for effective wrap-around services, according to Darius Kahn of DHS.
He pointed to refurbishing the Adler Hotel as done without bonds or raising capital funds.
"When I go around the nation... people say, 'We can't produce more supportive housing. We don't have the bond, we don't have the capital dollars that all of you have.'
"I say, 'You ought to look at every single opportunity that you can to create supportive housing.' "
In this case, private funds paid for refurbishing the Alder Hotel.
The Patel family, which held the Alder through lease from DHS, paid for constructions costs -receiving subsequent lease payment reduction from the City.
The Alder Hotel "was an under utilized resource," Kahn continued.
"It was sitting almost vacant. We rehabbed the building - the owner actually paid for these upgrades - and then we decreased the rent from money.
"What we're talking about is a sea change. It's turning it on its head but it's also looking at every single opportunity that's out there to create supportive housing.
"For us... it's about tying up former residential hotels that formerly possibly could have been run better, possibly could have been run in a more productive way for formerly homeless people."
And palm trees on Sixth Street aren't so awful, interjected Newsom.
"I know we all love to hate those damn palm trees, but look outside - this is not your mother's Sixth Street.
"This is a different Sixth Street and there's actually a lot of great things happening down here.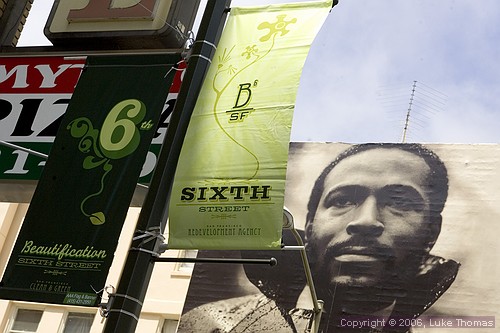 "Until the rest of the nation wakes up does the right thing I'm proud of the fact that people come to San Francisco.
"That's an audacious thing to say and a lot of people don't want their mayor saying that but the fact is when people are suffering from wherever they are we're all suffering.
"That's what my values are and I apologize if they aren't everyone's values but when someone is out on the streets I think we all have an obligation to help them."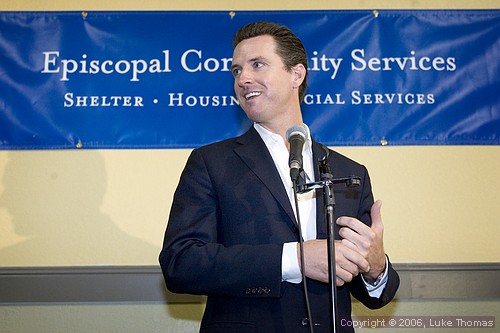 ####