Supperclub hosts San Francisco Late Night Coalition fundraiser gala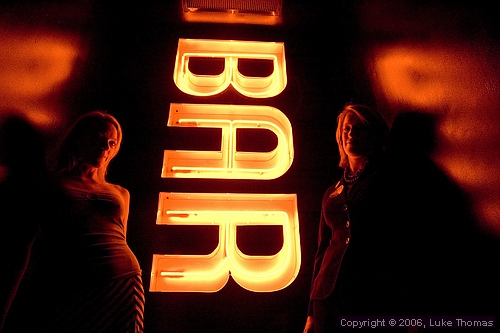 Catherine Rauschuber and District 8 Candidate Alix Rosenthal complete an incomplete photographic composition inside the sensually rich Supperclub on the occasion of the San Francisco Late Night Coalition's first annual fundraiser gala event.
Photo(s) by Luke Thomas
October 20, 2006
On Wednesday night, the San Francisco Late Night Coalition held its first annual fundraiser gala at the Supperclub and Fog City Journal was there to soak it all up.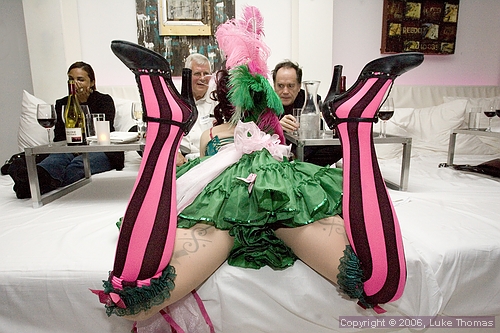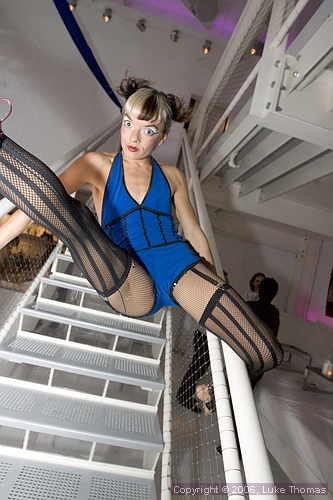 It was certainly a night to remember!
Gala attendees dined on a five course meal prepared by renowned Chef Jon Stevens while taking in Supperclub's breathtaking décor while lounging around tables on white sheeted beds ringing virginal with the all-white dining room. The $250 invite-only affair included a program of speeches by local elected officials and a line-up of aerial performers, musicians, vocalists, and djs.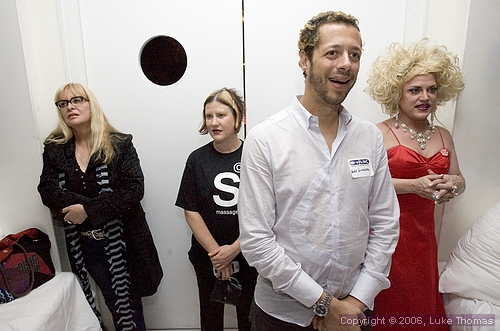 Supperclub co-owner, Alex Lustberg
The San Francisco Late Night Coalition (SFLNC) is a political action committee composed of club owners, promoters, activists, dj's, musicians, artists and community members. It's stated goal is to protect, preserve and promote San Francisco's late-night culture.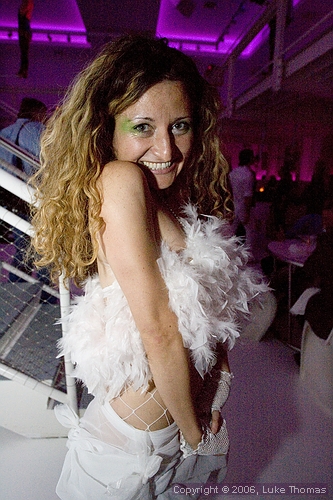 Turkish delight, Yaylor Kaplan.
The SFLNC works to "encourage understanding of the regulations and issues surrounding after-hours entertainment, and to provide a voice for the rights and the passions of this diverse community."
While some Fog City Journalist's write probing analyses of topics generally perceived to be weighty, I find myself drawn to writing about the intersection of the San Francisco's cultural and political worlds.
This is precisely the intersection where the SFLNC sits. And no doubt attendees of the gala would argue the organization's focus is extremely vital to the strength of the cultural and economic fabric of San Francisco.
The gala was attended by who's who of the local entertainment scene. Owners of major entertainment venues, such as 1015 and Mezzanine were in attendance, as well as politicians, event organizers and promoters. Performers throughout the evening included DJ Pusspuss, JT Donaldson, Ellen Ferrato, M3, Laird, Adnan, Smoove, Michael Anthony, Late Night Sneaky, Kepi & Kat, Kerri Kresinski, Marissa Lendhardt, members of Xeno, Miranda Caroligne, Rena Jones, and Kitten on the Keys.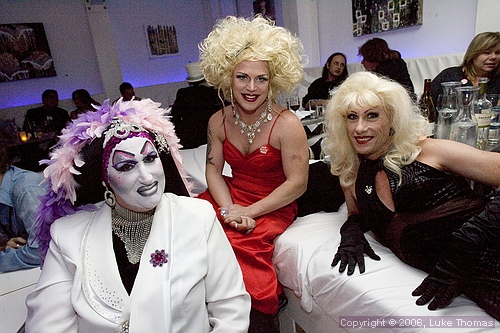 The SFLNC was founded in 1999 in reaction to an era of Police Department crackdowns on entertainment venues, threatening some of the city's most well known nightclubs. The SFLNC formed and rallied public and political support against the SFPD actions - and to promote the value of San Francisco late-night entertainment.
When Assemblyman Mark Leno was on the Board of Supervisors, he sponsored SFLNC legislation to remove permitting control from the SFPD and created the Entertainment Commission. The legislation passed in 2003, and the Entertainment Commission now has authority of city entertainment permitting.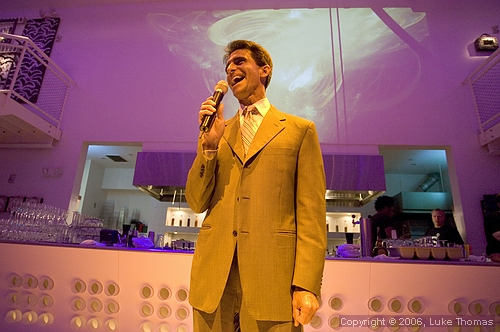 California State Assemblymember Mark Leno
Ian Chang ("Smoove"), whose dj set capped off the event, thinks the seven-year existence of the SFLNC has had a palpable impact on the late-night entertainment scene. He explained this saying, "The mood between the promoters and club owners and the cops is much less adversarial than it was just a few years ago."
Chang also noted that the SFLNC has accomplished much to put a good face on dj culture, often perceived as being merely a vehicle for drug use.
Since its initial successes against the SFPD crackdown, the SFLNC now lobbies on behalf of the entertainment industry at City Hall. The SFLNC has sponsored numerous pieces of pro-nightlife legislation including an ordinance disallowing the city to use calls for emergency medical service against clubs in permit proceedings, and legislation allowing 18+ events to continue after 2am.
Supervisor Daly spoke to the gala attendees about his work with the SFLNC to pass an ordinance that exempts places of entertainment from needing a duplicative dance hall permit just to allow dancing. Daly invoked the message of the SFLNC sticker he was wearing on his suit, pronouncing that "dancing is not a crime."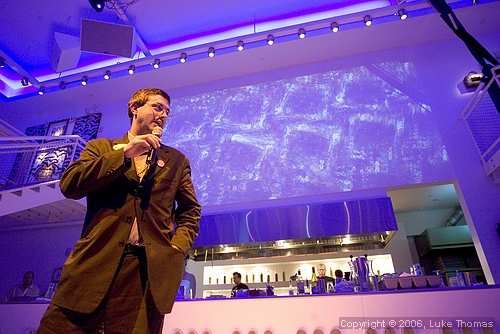 Supervisor Chris Daly
Supervisor Daly mentioned he has been working with the SFLNC on zoning and redevelopment issues, including ensuring that entertainment remains a permitted use in currently allowed Eastern neighborhoods, and becomes a permitted use in the South of Market area where new entertainment uses have not been allowed since the last re-zoning in 1992.
Assemblyman Mark Leno spoke of his efforts at the State level to allow San Francisco to serve alcohol until 4am, an effort which has not been successful to date, but which he and SFLNC will continue to pursue. Leno also presented the SFLNC with a proclamation from the State of California.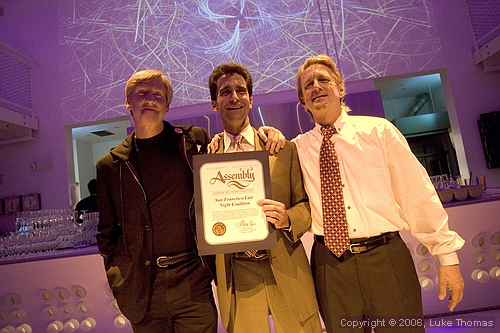 SFLNC Political Director John Wood (left) and SFLNC Chairman Terrance Allen (right) receive a proclomation from State Assemblymember Mark Leno.
Terrance Allen, Chairman of the SFLNC, commented that the SFLNC has a lot to celebrate, and likely will become even more influential as it continues to harness the political energy of some of the city's most creative folks.
A few performers in attendance explained that the intimate event was great because it allowed some of the scene's heavy hitters to interact, enjoy each other's performances, celebrate all of the work they've done for the cultural life of San Francisco, and prepare the way to do even more…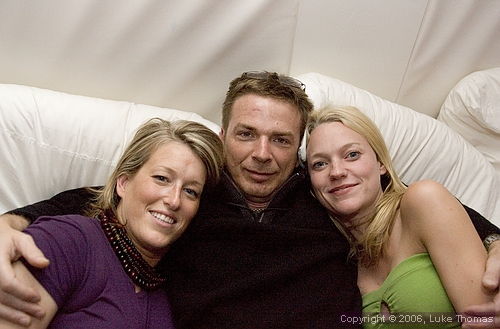 Alix Rosenthal and Catherine Rauschuber enjoy an after dinner brotherly embrace
with Fog City's Luke Thomas.
Photo by Kristen L. Techel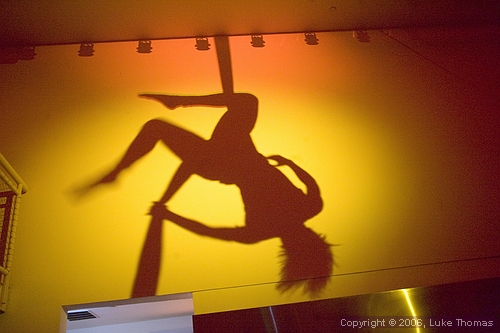 ####