Board of Supervisors favor police surveillance cameras in high crime neighborhoods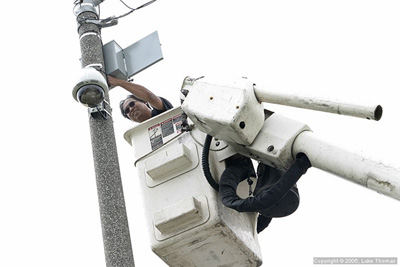 Photo(s) by Luke Thomas
July 19, 2006
The San Francisco Board of Supervisors yesterday voted 9-2 to reject a proposal that funding for police surveillance cameras be placed on hold due to civil liberties concerns.
Supervisor Jake McGoldrick raised the issue backed by Supervisor Chris Daly.
Politically progressive Supervisor Tom Ammiano applauded the motion as "coming from conscience, while pointing out his constituents want the cameras.
Supervisors Sophie Maxwell and Ross Mirkarimi, who represent districts plagued by violence, expressed the same sentiment.
####