Daly seeks City Attorney analysis
on Newsom mass resignations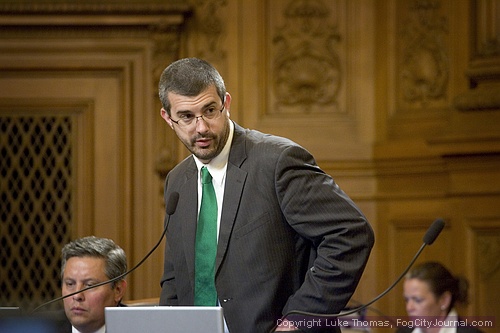 Supervisor Chris Daly
Photo(s) by Luke Thomas
From the Office of Supervisor Chris Daly
September17, 2007, 7:00 p.m.
To: City Attorney Dennis Herrera
From: Supervisor Chris Daly
Re: Mass resignation legal issues
I am in possession of dozens of apparent resignation letters from both Department Heads and Commissioners submitted to the Mayor last week.
I am requesting a written analysis of the legal issues surrounding these apparent resignations.
I am concerned that several resignations may have inadvertently been made effective immediately, including that of Acting Human Resources Director James Horan.
Another 20 or so resignation letters were submitted with an effective date in January. In other words, these were not just offers of resignation or contingent on some other action. These included the heads of some of the City's largest departments including Health Director Katz, DPW Director Abadi, Recreation and Parks GM Agunbiade, and Port Director Moyer.
Several dozen resignation letters referenced "acceptance" by the Mayor of San Francisco.
Several dozen "resignation" letters were just offers of resignation.
I am seeking written advice on which employees and Commissioners have effectuated resignations and what the transition process is for these vacated positions. I am also interested in the legal definition of "acceptance" and any provisions that allow the Mayor to "accept" or not "accept" resignations and/or resignation offers. If these provisions exist, how would this acceptance or non-acceptance be exercised? I am also interested in any recommendations, legislation or otherwise, on how to handle the current situation or any other like it in the future.
Thank you.
CHRIS DALY
####