Treasurer José Cisneros and Supervisor Tom Ammiano introduce Ban on check-cashing and payday lending businesses in San Francisco
High concentration in the poorest neighborhoods leads to zoning moratorium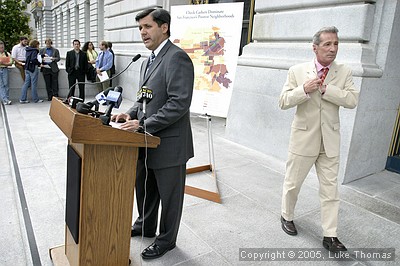 Photo(s) by Luke Thomas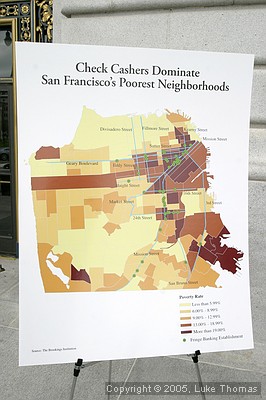 From the offices of Supervisor Tom Ammiano and Treasurer Jose Cisneros
Tuesday, October 18, 2005
SAN FRANCISCO-Treasurer José Cisneros and District 9 Supervisor Tom Ammiano today announced the joint introduction of a moratorium on check-cashing and payday lending businesses.
"These businesses prey on low-income neighborhoods by offering short term loans with exorbitant rates of interest, and charging for simple services such as the cashing of paychecks," said Treasurer Cisneros. "And they are concentrated in the poorest neighborhoods in San Francisco, among the people who can least afford their rip-off rates."
The legislation calls for a 45 day zoning moratorium on all new check cashers and pay day lenders in San Francisco, while allowing the City to investigate and recommend permanent controls. At least 56 check cashers are in operation in San Francisco, selling over $40 million worth of services annually, according to the Brookings Institution. Some charge an annual percentage rate of up to 911 percent for a one-week loan.
"These businesses are financial predators, and they have to be stopped," said Supervisor Tom Ammiano. "The products they offer may look like a good deal at first, but they can trap families in a spiraling cycle of debt."
"By charging exorbitant rates and fees, these predatory financial institutions deprive hard-working families of the chance to build assets and to get ahead. Not surprisingly, these predatory financial establishments are overconcentrated in the City's diverse, working class neighborhoods. City residents need greater access to mainstream credit, not fringe financial services," said Kevin Stein, Associate Director of the California Reinvestment Coalition.
Check-cashing and payday lending businesses are concentrated in San Francisco's poorest neighborhoods: the median income in a neighborhood with these types of businesses is roughly $38,000, compared to a City-wide median income of about $60,000. The Brookings Institution estimates that half of check-cashing and payday lending businesses are located in just four neighborhoods in the City.
"I am working hard to get all San Francisco adults out of the predatory lending cycle, and to provide solid financial services that meet everyone's needs," remarked Treasurer Cisneros. "By reining in pay day lenders and check cashers, and developing sound financial solutions, I believe we can set all San Franciscans on the road to building assets instead of debt, and securing a safe financial future for their families."

####