San Francisco awarded
International Children's Games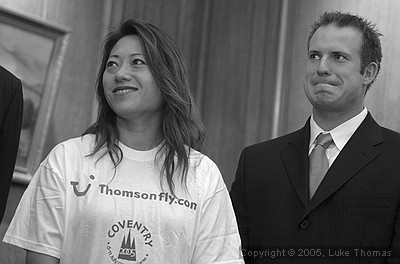 Supervisor Fiona Ma and Scott McRoberts, of West Coast Tennis Services,
beam after lengthy efforts pay off.
Photo(s) by Luke Thomas
From the Office Supervisor Fiona Ma
Friday, September 9, 2005
Mayor Gavin Newsom, Supervisor Fiona Ma, members of the San Francisco Sports Council and sponsors yesterday announced that the International Children's Games Executive Committee has named San Francisco as the Host City for the 2008 International Children's Games (ICG).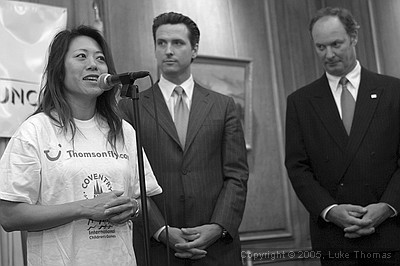 Supervisor Fiona Ma, Mayor Gavin Newsom, Scott Thompson
The 2008 ICG will be held in San Francisco on July 11-15, 2008, just four weeks before the Summer Olympic Games are held in Beijing, China. The International Children's Games and Cultural Festival will present San Francisco to the world and provide the opportunity to generate a potential economic impact of $14 million dollars to the local economy.
"San Francisco is both proud and honored to have been chosen as the host city for the 2008 International Children's Games. Young people coming from over 60 counties across the globe, represent the best in athleticism, physical and mental endurance and good sportsmanship. The games embody an educational and cultural experience that will last a lifetime. We welcome the young athletes to our city and wish them much success in this exciting sporting event," said Mayor Newsom.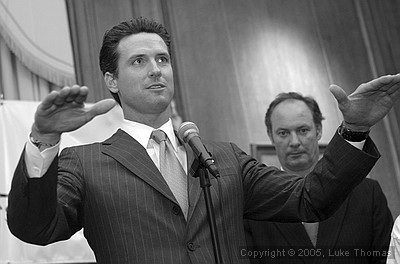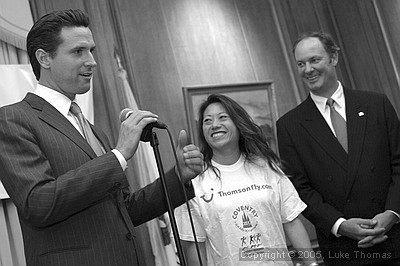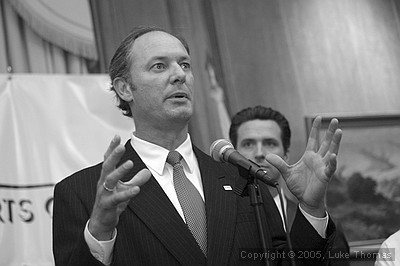 Scott Thompson, San Francisco Sports Council Business Development Director.
"Although sports serve as the catalyst for the International Children's Games, this event is truly about providing the opportunity for children, their families and communities to participate in an international cultural exchange," said Dean Church of the San Francisco Sports Council.
The ICG is the only global, youth athletic event that combines sports with educational programs and cultural exchanges. The event brings together 3,500 athletes aged 12-15, coaches and city delegates from 60 countries from around the world, to put forth their personal best in track and field, tennis, swimming, volleyball, soccer, table tennis, basketball and golf.
"The 2008 International Children's Games and Cultural Festival in San Francisco will create an opportunity to celebrate the multicultural fabric of San Francisco and the economic opportunities that our region has to offer," said Supervisor Ma. "The Games will engage thousands of athletes, dignitaries, students, and Northern California residents and visitors in ongoing dialogue and idea sharing."
The Opening Ceremonies for the Children's Games will take place at SBC Park and will feature world-class entertainment, fireworks, a flag ceremony, torch lighting, official proclamations, and a dance production featuring children in the traditional costumes of their native countries.
Golden Gate Park, The University of San Francisco and San Francisco State will serve as venues to host the eight sports at the junior world-class level. Throughout the Games, the International Festival Village will be the epicenter of cultural exchange. Located in the Sharon Meadows in Golden Gate Park, the Village will feature music, art, exhibits and authentic food from around the world. Closing ceremonies will take place at Music Concourse and will be free and open to the public.
For more information about the ICG, please visit them online at webicg.org.