Supervisor Chris Daly to seek re-election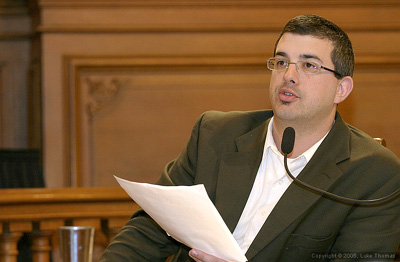 Photo(s) by Luke Thomas
December 19, 2005, 7:30 p.m.
District 6 Supervisor Chris Daly will run for re-election, Daly disclosed last week in a televised interview.

"Daly also said he expects the race to get 'ugly,' but says he's going to run a 100% positive campaign," SFist reported. The interview appeared on The Bruce Petit Report.

The San Francisco Elections Departments lists seven other District 6 contenders on the department's potential candidate list for the November 2006 election.

They include Nadia S. Cabezas, Matthew Drake, Rodney Hauge, Manuel Jimenez, Bobby Jordan, Andrew Rucker, and William Stewart.

No incumbent is running in District 4, with early contenders listed as Douglas Chan, David Ferguson, Pierre Fraysse, and Patrick Maguire.

In District 10, incumbent Supervisor Sophie Maxwell currently faces competitors Rodney Hampton, Jr.; Dwayne Jusino, Charlie Walker, and Asale-Haquektah Davis-Chandler.

Supervisor Bevan Dufty faces no contenders in District 8 to date.

Isaac Wang has filed intent to run against incumbent Assessor Recorder Phil Ting.

####