Cabbie settles suit with San Francisco Chronicle over misidentified use-of-force photo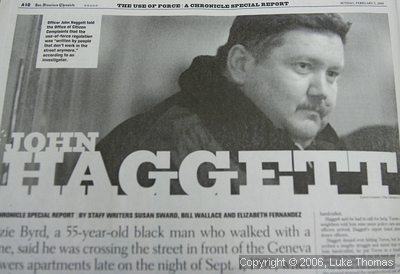 A photo of cab driver Jack Neeley appeared in the February 5th issue of the San Francisco Chronicle, misdentifying Neeley as an SFPD officer with a history of excessive force complaints against him.
Photo(s) by Luke Thomas
By Julia Cheever, Bay City News Service
June 9, 2006
SAN FRANCISCO (BCN) - A taxi driver and the San Francisco Chronicle reached a confidential settlement today of a defamation lawsuit the driver filed against the newspaper for mislabeling his photo as that of a police officer discussed in an article on alleged excessive force.
Daniel Bacon, a lawyer for taxi driver Jack Neeley Jr., 42, confirmed that the settlement was reached in San Francisco Superior Court today.
Bacon said the terms of the agreement are confidential, but said,
"My client is very pleased and satisfied with the settlement."
Neeley's photo was incorrectly identified as that of Officer John Haggett, who has been suspended three times for using excessive force and named in a number of citizens' complaints, in the San Francisco Chronicle on Feb. 5.
The mislabeled photo was run on the front page and again on an inside page. The article was part of a series on problems in the police department.
Jonathan Donnellan, a lawyer with the Hearst Corp., which owns the Chronicle, said, "We are pleased that Jack Neeley has agreed to put this matter behind us and return the proper focus to the Chronicle's reporting on use of force by the San Francisco police."
The lawsuit was filed on May 8 and was based on claims of defamation and portrayal in a false light, Bacon said.
Bacon said Neeley contended he suffered emotional distress and also had to cut back on night driving hours after a passenger accused him of being Haggett. Neeley is now driving fulltime again, Bacon said.
Bacon said, "The Chronicle really did step up to the plate and got this resolved promptly."
Chronicle spokeswoman Patricia Hoyt said the newspaper published two corrections and has apologized to Neeley publicly and privately.
"We are really sorry about the error," she said. Hoyt said
Chronicle officials have determined how the mistake was made, but have declined to make that information public.
Copyright © 2006 by Bay City News, Inc. -- Republication, Rebroadcast or any other Reuse without the express written consent of Bay City News, Inc. is prohibited.
####