Swells turn out in force to support
CIRM fundraising event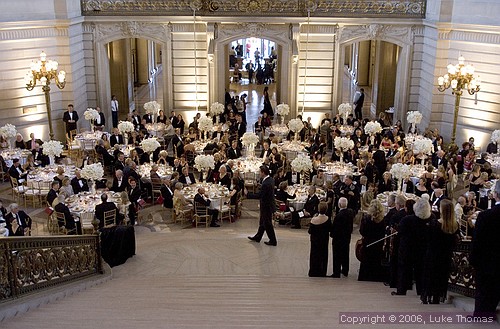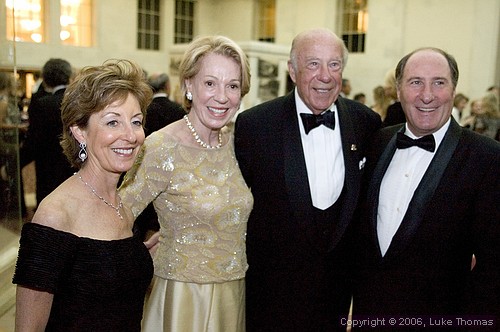 Marcia Goldman, Charlotte Shultz, former Secretary of State George Shultz,
and San Francisco Symphony President John Goldman
attended a fundraising dinner event at City Hall in support of CIRM.
Photo(s) by Luke Thomas
May 23, 2006
Deborah Strobin lost her husband Edward in 2000 to cancer, a specific type of cancer that could someday have a cure through stem cell research.
On Monday evening, Strobin and a small group of volunteers organized "Reach for Tomorrow, Research Today" the first gala event to benefit stem cell research in San Francisco.
"This is my small tribute to Eddie," Strobin said. "I want this event to elevate awareness of stem cell research and its potential value to people like my husband, who had very little chance of conquering his form of cancer."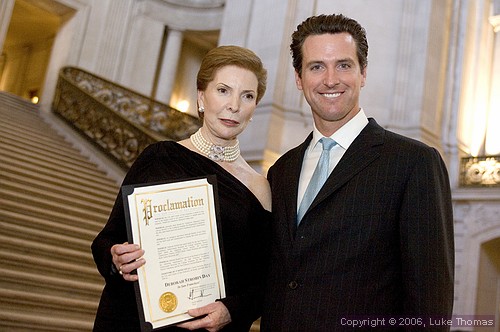 Deborah Strobin receives a proclomation from Mayor Gavin Newsom
The overall event consisted of cocktails and a black-tie dinner with a speech from Mayor Gavin Newsom under the City Hall rotunda, followed by a visit with Academy Award-winning singer Julie Andrews and a solo concert by multi-award winning composer Marvin Hamlisch at the Bill Graham Civic Auditorium.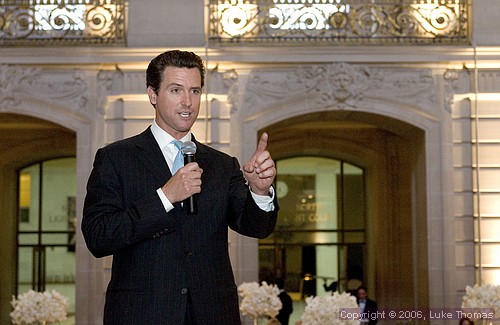 The funds raised Monday evening will go directly to the California Institute for Regenerative Medicine, the only state-based stem cell research foundation in the United States, Strobin said. Tickets for dinner ranged from $1500 to $10,000 per seat and tickets for the performance ranged from $35 to $100. Between 900 and 1,000 people attended both events.
"I hope the donors tonight have the satisfaction of knowing that they are supporting a noble cause," Strobin said.
Funds raised from the gala will help the California Institute for Regenerative Medicine hire a scientific staff to help look at the next round of grant applications, chairman Bob Klein said. The agency distributed its first set of grants in April and is planning to distribute another $35 million of bond anticipation notes.
"The outpouring of civic support will help the agency fund the staff that we need to distribute the next set of grants," Klein said.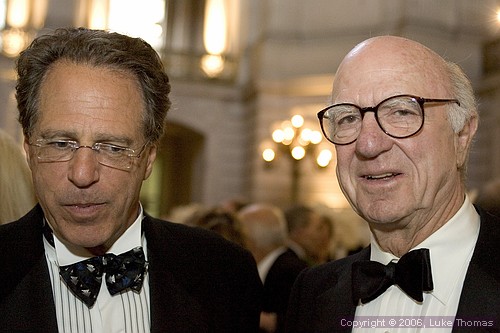 CIRM Chairman Bob Klein and Donald Fisher
Agency President Zach Hall said money from the event will also help support a scientific conference to assess medial risks for egg donors and will help send 16 scientists to England for a stem cell renewal conference.
"This event has been a morale booster for our agency," Hall said.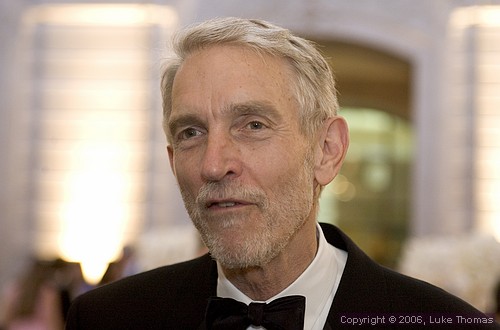 Zach Hall
Doormen in red uniforms greeted each guest at the entrance of City Hall as violinists played in the background. Each table out on the rotunda had a towering bouquet of white orchids.
Mayor Gavin Newsom echoed Strobin's hopes as the guests sat down to dinner. Newsom also officially declared Monday Deborah Strobin Day.
"I know so many of you are here for your commitment to stem cell research," Newsom said. "You have come here to make an investment for our future."
The gala is also a celebration of San Francisco as the final location for the agency, Newsom said. Over 18 cities bid to host the agency, including San Diego.
"We made the case on the merits that San Francisco is the birthplace of biotechnology and bioscience," Newsom said.
The Bay Area contains over 900 biotech companies interested in developing stem cell research, said Steve Burrill, Chair of the Mayor's Biotech Advisory Council.
"The Bay Area is the hub of the world's biotech industry," Burrill said. "The technology that we are developing will help patients around the world living with 70 major diseases, including Parksinson's, Alzheimer's, cancer, and diabetes."
Newsom thanked the many donors to the cause, including Dagmar and Ray Dolby who committed to donating millions of dollars when Newsom asked originally for $100,000.
"Ray left the office and came back a second later to ask me how to get the money in right away," Newsom said. "Trust me, this doesn't happen all the time in my line of work."
Donald Fisher, founder of GAP Inc., is one of the major donors to the gala.
"The opportunity to save lives through this research is enormous," Fisher said. "Even though it may not affect me, such research will impact my children and my grandchildren."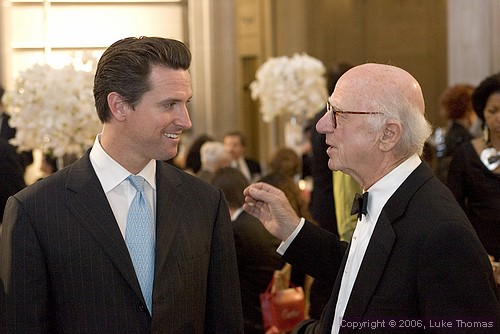 After the dinner, guests proceeded to the Bill Graham Civic Auditorium for a visit with Academy, Tony, Emmy, Grammy and Golden Globe Award-winning actress and singer Julie Andrews.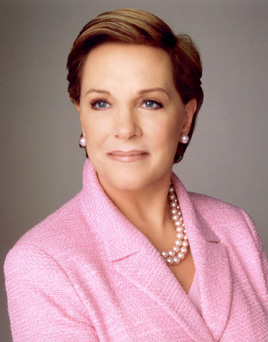 Julie Andrews
Photo courtesy Julie Andrews
The celebrity filled event also included Broadway stars Lee Roy Reams, Rebecca Luker and George Dvorsky accompanied by Larry Blank and his orchestra.
Reams performed the "Lullaby of Broadway" and "Pretty Women" from Sweeney Todd." Luker sang "Never Neverland" from "Peter Pan" and "The Trolley Song" from "Meet Me in St. Louis." Dvorsky sang "Taking a Chance on Love" from "Cabin in the Sky." Luker joined him to perform "That's All I Ask of You" from "Phantom of the Opera."
"Your support will surely save lives," Luker said to the audience.
Award wining composer Marvin Hamlisch performed a solo concert, including the score of "A Chorus Line" and versions of "Happy Birthday" using the styles of Beethoven and Mozart. Hamlisch composed over 40 motion picture scores and his groundbreaking show "A Chorus Line" received a Pulitzer Prize.
"All of us are onto something major," Hamlisch said. "I'm glad to be here tonight as someone who believes in this effort."
Hamlisch even made up a song which he dedicated to the event and stem cell research efforts.
"Soon, we'll get there soon," Hamlisch sang, "We'll say at last we've done our part. We've made our mark. We'll get there soon."
Andrews spoke about her life and career and answered questions from the audience. Andrews also applauded Strobin and many attendees for their efforts.
"It takes courageous people with a vision to make a difference," Andrews said.
The California Institute for Regenerative Medicine funds stem cell research directed toward therapies for those suffering from chronic disease and disability, Hall said. Voters approved the creation of the agency in 2004 through Proposition 71, which authorized $3 billion of funding towards stem cell research.
The agency issued its first grants in April, Klein said. $12.1 million in grants will help train 169 students at 16 state universities and other non-profit organizations, such as Stanford University, the University of California-Berkeley, and the J. Gladstone Institutes of San Francisco.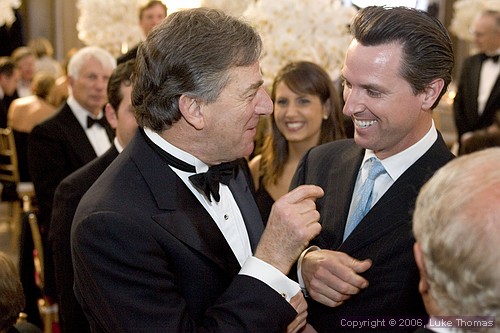 Investor Paul Pelosi (left)
####