Pelosi accepts award at City CarShare
5th anniversary party
City of Berkeley & Matt Nichols Honored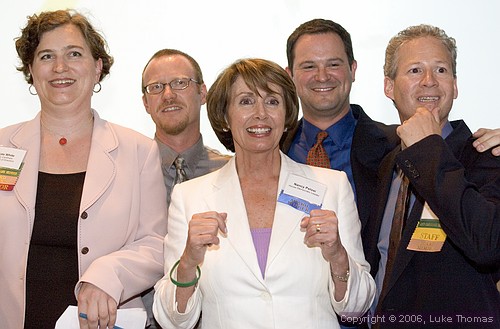 City CarShare Board Member Kate White, City of Berkeley Principal Transportation Planner and City CarShare honoree Matt Nichols, House Minority Speaker Nancy Pelosi, City CarShare Board Member Alex Clemens, and City CarShare CEO Rick Hutchinson gathered on stage on the occasion of City CarShare's 5th Birthday anniversary bash yesterday.
Photo(s) by Luke Thomas
June 2, 2006
San Francisco - House Democratic Leader Nancy Pelosi was honored yesterday as City CarShare's "Partner of the Year" at the organization's fifth anniversary Birthday Party. The event highlighted the continuing efforts of both Congresswoman Pelosi and City CarShare, a Bay Area nonprofit, to reduce consumption of gasoline.
"City CarShare offers a practical way for people to reduce their consumption of gas, avoid rising gas prices, and still have access to cars when they need them," Pelosi said. "I'm proud to be a long-time supporter of City CarShare and I applaud their members for saving more than 1 million gallons of gas over the last five years."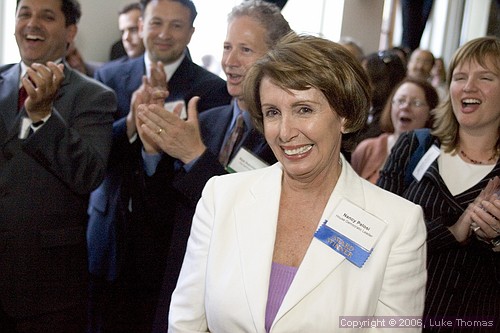 City CarShare also honored Principal Transportation Planner Matt Nichols & the City of Berkeley as "Innovators of the Year" for their pioneering work on city fleet replacement with City CarShare.
"The City of Berkeley has saved money, increased our efficiency, reduced parking demands downtown by replacing part of its fleet with City CarShare's shared fleet," said Matt Nichols, Principal Transportation Planner for the City of Berkeley. "We're also reducing the environmental impact of our employees driving and providing Berkeley residents with an inexpensive and environmentally sound alternative to car ownership."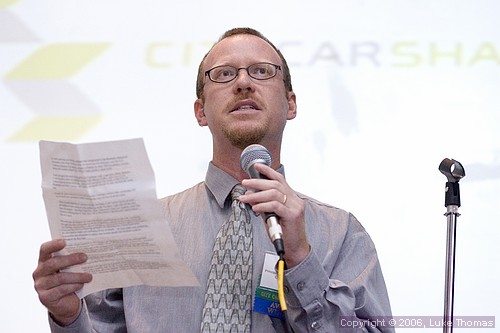 Matt Nichols
Since it was founded in 2001, City CarShare has grown to over 5,000 members who have access to a fleet of 130 vehicles at over 70 Bay Area locations. New cars and locations are added monthly as part of City CarShare's ongoing program of providing Bay Area residents with convenient neighborhood locations where they can choose from different vehicle types, including hybrids, trucks and wagons. City CarShare offers its low-cost service as an alternative to car ownership.
"We are very pleased to name House Democratic Leader Nancy Pelosi as our 'Partner of the Year' for her longtime support of City CarShare and her tireless work to support City CarShare at the federal level. Her support of City CarShare helps us bring the benefits of car-sharing - cleaner air, less traffic and reduced use of gasoline - to everyone in the Bay Area," said Rick Hutchinson, CEO of City CarShare. "We are also very pleased to name Matt Nichols & the City of Berkeley as 'Innovators of the Year' for taking the ground-breaking step of replacing part of their City fleet with a shared fleet that is available to local residents when not in use by the City."
About City CarShare

Launched in 2001, City CarShare is the largest nonprofit car-sharing organization in the U.S., serving over 5,000 active members with over 130 vehicles in more than 70 locations throughout the Bay Area for $4/hour and 44c/mile. Prices include gas, insurance, parking, cleaning, and maintenance. Last-minute or advance reservations can be made online or by phone for any length of time from half-an-hour to half-a-day or more. Members can immediately access their vehicle at their neighborhood location without further paperwork or delay.
A cheaper, greener way to drive, City CarShare offers a choice of compacts, pickup trucks, hybrids, and MINIs to its individual and business members. For more information or to become a member, visit www.citycarshare.org or call (415) 995-8588.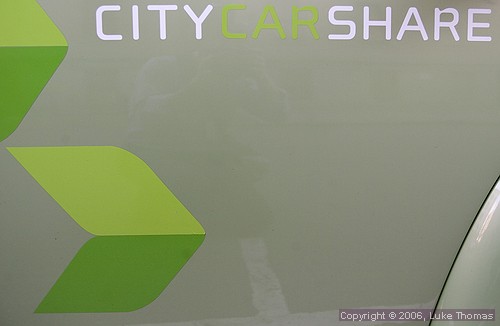 ####